Search Results

Showing Item 3 of 7960
Preferred library:

Lake Agassiz Regional Library

?
---
Upside-Down Magic [electronic resource] Emily Jenkins.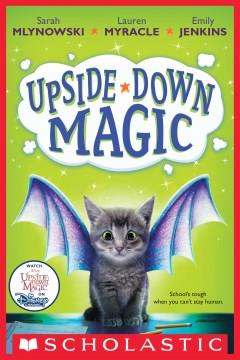 eBOOK
Electronic resources
Record details
ISBN:

9780545800471

(electronic bk)
Physical Description:

1 online resource
Content descriptions
Summary, etc.:
From New York Times bestselling authors Sarah Mlynowski, Lauren Myracle, and Emily Jenkins comes a new, offbeat series about a group of misfits who set out to prove that life on the other side of ordinary has its charms. In a world of elite magic academies, weird and wonderful things happen when you're sent off to public school . . . and put in the Upside-Down Magic class. It's never easy when your magic goes wonky. For Nory, this means that instead of being able to turn into a dragon or a kitten, she turns into both of them at the same time—a dritten. For Elliott, the simple act of conjuring fire from his fingertips turns into a fully frozen failure. For Andres, wonky magic means he's always floating in the air, bouncing off the walls, or sitting on the ceiling. For Bax, a bad moment of magic will turn him into a . . . actually, he'd rather not talk about that. Nory, Elliott, Andres, and Bax are just four of the students in Dunwiddle Magic School's Upside-Down Magic class. In their classroom, lessons are unconventional, students are unpredictable, and magic has a tendency to turn wonky at the worst possible moments. Because it's always amazing, the trouble a little wonky magic can cause . . .

Target Audience Note:
Text Difficulty 2
MG/Middle grades (4th-8th)
3.7 ATOS Level

Reproduction Note:
Electronic reproduction. New York : Scholastic Press, 2015. Requires OverDrive Read (file size: N/A KB) or Adobe Digital Editions (file size: 8433 KB) or Kobo app or compatible Kobo device (file size: N/A KB) or Amazon Kindle (file size: N/A KB).

Reviews
Booklist Reviews : Booklist Reviews 2015 July #1
Just because it's magic doesn't mean it's easy. Nory is a Fluxer, and, as such, she should be able to transform her physical appearance with precision. Unfortunately, she has a penchant for hybrids and would give anything to be able to embody a black kitten rather than a skunk-elephant. When her "wonky magic" bars her admission to the prestigious Sage Academy, Nory finds herself with other magically challenged kids in Dunwiddle Magic School's class for upside-down magic. There, her upbeat teacher concentrates on the positive attributes of her student, but all Nory wants to do is pass for normal. Her refusal to see herself as having anything in common with her class isolates her further, and it takes a near disaster for Nory to recognize that maybe unique powers have a place in the world after all. Mlynowski, Lauren Myracle, and Emily Jenkins have combined their considerable writing powers and experience to create an uplifting series launch that will charm young fantasy readers. Copyright 2014 Booklist Reviews.
Author Notes
Sarah Mlynowski is the New York Times bestselling author of the Whatever After series, the Magic in Manhattan series, Gimme a Call, and a bunch of other books for tweens and teens, including the Upside-Down Magic series, which she cowrites with Lauren Myracle and Emily Jenkins. Originally from Montreal, Sarah now lives in the kingdom of Manhattan with her very own prince charming and their fairy tale-loving daughters. Visit Sarah online at sarahm.com and find her on Instagram, Facebook, and Twitter at @sarahmlynowski.

Lauren Myracle is the New York Times bestselling author of many books for young readers, including The Winnie Years (which begins with Ten), the Flower Power series (which begins with Luv Ya Bunches), and the Life of Ty series. She would like to be a Fuzzy so she could talk to unicorns and feed them berries. You can find Lauren online at laurenmyracle.com.

Emily Jenkins is the author of many chapter books, including the Toys trilogy (which begins with Toys Go Out) and the Invisible Inkling series. Her picture books include Lemonade in Winter, Toys Meet Snow, and The Fun Book of Scary Stuff. She would like to be a Flare and work as a pastry chef. Visit Emily at emilyjenkins.com.
Search for related items by subject
Search for related items by series