---
Superman's pal, Jimmy Olsen, Jack Kirby / stories and art by Jack Kirby ; inks by Vince Colletta, Mike Royer ; cover art by Jack Kirby, Neal Adams, Vince Colletta, Mike Royer and Murphy Anderson.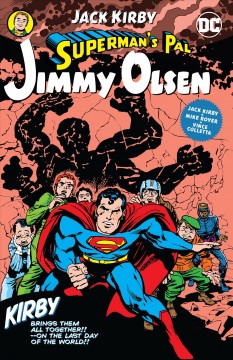 BOOK
Available copies
2 of 2 copies available at LARL/NWRL Consortium.
2 of 2 copies available at Lake Agassiz Regional Library. (Show preferred library)
Current holds
0 current holds with 2 total copies.
Record details
ISBN:

9781401288853

ISBN:

1401288855

Physical Description:

369 pages : chiefly illustrations ; 26 cm

Publisher:

Burbank, CA :

DC Comics,

[2019]

Copyright:

©2019
Content descriptions
General Note:

"New Gods and Fourth World created by Jack Kirby"

"Originally published in single magazine form in SUPERMAN'S PAL JIMMY OLSEN 133-139 and 141-148 and WHO'S WHO: THE DEFINITIVE DIRECTORY OF THE DC UNIVERSE 16."

Formatted Contents Note:

The newsboy legion! -- The mountain of judgment! -- Evil factory! -- The saga of the D.N.Aliens -- The four-armed terror! -- The big boom! -- The guardian fights again! -- Will the real Don Rickles panic? -- The man from Trnasilvane! -- Genocide spray! -- A big thing in a deep Scottish lake! -- Brigadoom! -- Homo disastrous -- A Superman in supertown! -- Monarch of all he subdues -- Mother box files.

Summary, etc.:

"Jack Kirby's legendary take on Superman's best friend, Jimmy Olsen, is now collected in its entirety for the first time ever, with this graphic novel that features stories introducing some of the most memorable DC characters ever, including Darkseid! Follow the adventures of Superman's best pal, Jimmy Olsen! Featuring Jimmy in his own adventures and also featuring the Man of Steel himself, this phenomenal series introduced characters such as Darkseid, Mister Miracle and Orion! Writer and illustrator Jack Kirby used this book as a platform by which to launch his Fourth World creations, leaving a handprint on the DC Universe for years to come!"-- Provided by publisher.
Author Notes
Jack "King" Kirby's comics career began in 1937 and continued for nearly six decades. With partner Joe Simon, Kirby first made his mark in comics in the 1940s by drawing and/or creating numerous features for DC Comics including Sandman, The Newsboy Legion and Manhunter, and for Marvel including Captain America, The Young Allies and the Kid Commandos. As the most valued team in comics, Simon and Kirby went on to create titles and concepts including Fighting American, Boy's Ranch and the creation of the romance comics genre. In 1961 the first issue of Marvel's FANTASTIC FOUR cemented Kirby's reputation as comics' preeminent creator, and a slew of famous titles followed that elevated him to legendary status, including Incredible Hulk, Avengers and X-Men. Kirby returned to DC in 1971 with his classic Fourth World Trilogy, which was followed by The Demon and Kamandi. Kirby continued working and innovating in comics until his death in 1994.
Search for related items by subject
Search for related items by series