---
Darwin's rival : Alfred Russel Wallace and the search for evolution / Christiane Dorion ; illustrated by Harry Tennant.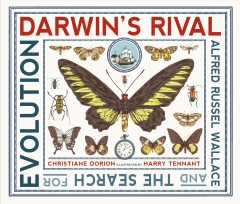 BOOK
Available copies
2 of 2 copies available at LARL/NWRL Consortium.
2 of 2 copies available at Lake Agassiz Regional Library. (Show preferred library)
Current holds
0 current holds with 2 total copies.
Record details
ISBN:

9781536209327

ISBN:

1536209325

Physical Description:

58 p. : col. ill., col. maps 28 x 33 cm.

Publisher:

Somerville, MA :

Candlewick Studio,

2020.
Content descriptions
| | |
| --- | --- |
| Summary, etc.: | Follow Victorian naturalist and explorer Alfred Russel Wallace on his intrepid journeys across the globe and find out how he developed his own theory of evolution in this beautiful illustrated gift hardback. In 1858, Alfred Russel Wallace's travels in the Amazon Basin and Malay Archipelago led him to discover natural selection independently of Charles Darwin. Darwin's Rival traces Wallace's life from his childhood in the Welsh countryside to his rise to prominence among the scientific community, via dense tropical jungles and perilous journeys -- and shines a light on one of the most important contributors to the theory of evolution. With evocative illustrations by Harry Tennant, this stunning gift book will appeal to children and adults alike, and is the perfect introduction to the man so often eclipsed by his contemporary and friend Charles Darwin. |
Reviews
Booklist Reviews : Booklist Reviews 2020 April #1
*Starred Review* Inspired by earlier Victorian naturalists' voyages of discovery, 25-year-old Alfred Wallace left England to explore the Amazon rain forest in 1848 and, later, also explored the Malay Archipelago. He had little money and limited formal education, but he was a gifted naturalist who financed his trip by selling specimens of butterflies, birds, and insects to museums and wealthy collectors. Solitary and curious by nature, Wallace enjoyed exploring new places, observing unusual species, and pondering questions that led to theories and a paper, sent to Charles Darwin, laying out the basics of evolution. Darwin, who had been working on the same ideas for 20 years, arranged for Wallace's paper to be presented along with some of his own notes in 1858, both proposing the theory of evolution. Never was a "rivalry" so generous, courteous, or full of mutual respect. This large, wide-format book offers informative text describing Wallace's adventurous life and evocative illustrations depicting his travels. Many well-chosen quotes bring Wallace's lively voice into the narrative. Reminiscent of detailed linocut prints using several coordinated colors, the handsome digital illustrations are equally effective in creating maps, portraits, displays of collected insects, and panoramic scenes of Wallace crossing oceans, deserts, and rain forests. An absorbing introduction to a notable figure in science history. Grades 6-9. Copyright 2020 Booklist Reviews.
Author Notes
Christiane Dorion&;s passion for writing children's books stems from the thousands of questions she asked as a child, many of which remained unanswered: How big is the universe? When did life begin? Originally from Canada, she moved to the United Kingdom to get a Ph.D. in environmental education before working for World Wildlife Federation, United Kingdom, and later becoming an educational consultant. Her award-winning books are intended to inspire children to explore the complex systems of the world we live in and help protect it. Christiane Dorion lives in Surrey, U.K.

Harry Tennant is London-born, but escaped to the coves of Cornwall to study illustration at University College Falmouth before returning to the capital of the United Kingdom once more. He now works as a freelance illustrator, using a mixture of hand-drawn and digital media to create his illustrations, and primarily produces artwork for magazines and book covers. Harry Tennant lives and works in Hackney, U.K.
Search for related items by subject