Search Results

Showing Item 1 of 1
Preferred library:

Lake Agassiz Regional Library

?
---
Reinventing American health care : how the Affordable Care Act will improve our terribly complex, blatantly unjust, outrageously expensive, grossly inefficient, error prone system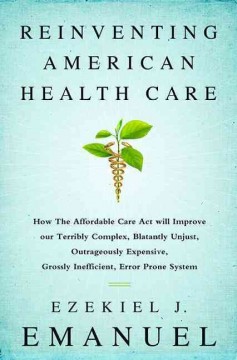 BOOK
Available copies
5 of 5 copies available at LARL/NWRL Consortium.
1 of 1 copy available at Lake Agassiz Regional Library. (Show preferred library)
Current holds
1 current hold with 5 total copies.
Record details
ISBN: 9781610393454 (hbk.)
ISBN: 1610393457 (hbk.)
ISBN: 9781610393461 (electronic)
Physical Description: print
xii, 380 pages : illustrations ; 25 cm
Edition:

First edition.

Publisher:

New York : PublicAffairs, 2014
Content descriptions
| | |
| --- | --- |
| Bibliography, etc. Note: | Includes bibliographical references (pages 351-355) and index. |
| Formatted Contents Note: | pt. I. The American health care system : How did we get here? ; Financing health care ; How Americans get their health care ; Five problems with the American health care system -- pt. II. Health care reform : The surprising history of health care reform in the United States ; Enacting the Affordable Care Act ; What the Supreme Court said ; What is in the Affordable Care Act? ; What does the ACA mean for me? -- pt. III. The future of American health care : ACA implementation problems ; The ACA dashboards ; Health care reform 2.0 ; Six megatrends in health care -- A final thought. |
| Summary, etc.: | "Health care is the largest employer in America, one of the largest perceived drains on the budget of the Federal government, a system with the capacity to bankrupt entire state economies, and one of the areas of personal expenditure that gives individual American citizens most financial anxiety. It matters like almost no other dimension of the government and private sector. Yet the system is widely misunderstood, and is a confusing maze to most of us who feel crushed by its complexities quite as much as we feel served by its doctors and nurses. Reinventing American Health Care explains why the American health care system is the way it is (why, for instance hospitals are so dominant), and the five problems that confront any attempt at reform. Teddy Roosevelt, FDR, Truman, Kennedy and Nixon all came to power promising universal coverage, and all failed. Emanuel explains how this happened by way of showing how extraordinary the passage of the Affordable Care Act was: it completely bucked the trend, in the face of some very tough political circumstances. With his unique insider's view, Emanuel explains why the Affordable Care Act took the shape it did, and in particular examines the political role of the American Medical Association. He then projects how the ACA will affect health care in the future, laying out the likely areas where further reform will be necessary"--Provided by publisher. |
Reviews
Booklist Reviews : Booklist Reviews 2014 March #1
In this unabashedly pro-Obama-care book, prominent bioethicist Emanuel makes a convincing, albeit one-sided, case for overhauling what he sees as an unfair health system in the U.S. Deftly using numbers to make his arguments, Emanuel organizes his book into three parts: the current system (largely its financing), health-care reform (the nearly 1,000-page Affordable Care Act ACA and legal challenges to it), and the future (lots of hospital closings). Today more money goes to the 4,985 acute-care hospitals ($970 billion in 2012) than all of Social Security ($730 billion) or national defense ($650 billion). And before ACA, nearly 50 million Americans, including 12 million undocumented aliens, lacked insurance. He also touches on important history (the creation of Medicare in 1965) and clearly explains complicated issues. For example, he uses a menu-pricing analogy to explain bundled payments: "If fee-for-service is ordering à la carte, bundled payment is prix fixe." A plain-English explanation of a tricky topic. Copyright 2014 Booklist Reviews.
Author Notes
Ezekiel J. Emanuel is vice provost for global initiatives and chair of the department of medical ethics and health policy at the University of Pennsylvania. From January 2009 to January 2011, he was a special adviser on health care reform to the White House. He is the author or editor of ten books and over 250 scientific articles. He is currently a senior fellow at the Center for American Progress, a columnist for theNew York Times, a regular contributor to the Wall Street Journal, contributing editor atThe New Republic, and appears regularly on television, including Morning Joe, Real Time with Bill Maher, Hardball with Chris Matthews, and the Rachel Maddow Show.
Search for related items by subject
Search Results

Showing Item 1 of 1
Preferred library:

Lake Agassiz Regional Library

?