---
A Walk in the Woods [electronic resource] : Rediscovering America on the Appalachian Trail. Bill Bryson.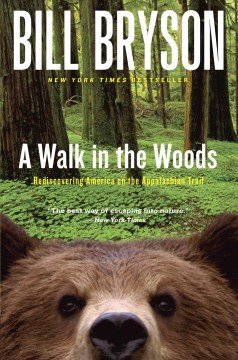 eBOOK
Electronic resources
Record details
ISBN:

9780307717832

(electronic bk)
Physical Description:

1 online resource
Content descriptions
| | |
| --- | --- |
| Summary, etc.: | A CLASSIC FROM THE NEW YORK TIMES BESTSELLING AUTHOR OF ONE SUMMER Back in America after twenty years in Britain, Bill Bryson decided to reacquaint himself with his native country by walking the 2,100-mile Appalachian Trail, which stretches from Georgia to Maine. The AT offers an astonishing landscape of silent forests and sparkling lakes--and to a writer with the comic genius of Bill Bryson, it also provides endless opportunities to witness the majestic silliness of his fellow human beings.For a start there's the gloriously out-of-shape Stephen Katz, a buddy from Iowa along for the walk. Despite Katz's overwhelming desire to find cozy restaurants, he and Bryson eventually settle into their stride, and while on the trail they meet a bizarre assortment of hilarious characters. But A Walk in the Woods is more than just a laugh-out-loud hike. Bryson's acute eye is a wise witness to this beautiful but fragile trail, and as he tells its fascinating history, he makes a moving plea for the conservation of America's last great wilderness. An adventure, a comedy, and a celebration, A Walk in the Woods has become a modern classic of travel literature.From the Trade Paperback edition. |
| Reproduction Note: | Electronic reproduction. New York : Broadway Books, 2009. Requires OverDrive Read (file size: N/A KB) or Adobe Digital Editions (file size: 2935 KB) or Kobo app or compatible Kobo device (file size: N/A KB) or Amazon Kindle (file size: N/A KB). |
Reviews
Booklist Reviews : Booklist Monthly Selections - #1 April 1998
After living abroad, Bryson decides to reacquaint himself with America by walking the famed Appalachian Trail, which traverses 14 states and stretches 2,100 miles. He recruits his ne'er-do-well chum Stephen Katz, his traveling companion in Neither Here nor There (1991). They hadn't gotten along on that European trip, and this time Katz shows up extremely overweight, toting 75 pounds of Snickers bars. He is hardly a good choice for a hiking partner, but Bryson is happy just to have someone along to share the often difficult experience (and Katz does prove to be a very funny man). They set out from Amicalola Falls State (GA) Park carrying the official Appalachian Trail guides consisting of 11 books and 59 maps, which proved "monumentally useless." Although they fail to walk the entire trail (indeed, Katz falls behind almost immediately), Bryson's book is a marvelous description and history of the trail and the mountains, providing an informal record of the trail's founding and many of its hikers. Bryson's great good humor makes this a journey worth taking. ((Reviewed April 1, 1998)) Copyright 2000 Booklist Reviews
Author Notes
BILL BRYSON's bestselling books include A Walk in the Woods, I'm a Stranger Here Myself, In a Sunburned Country, A Short History of Nearly Everything (which earned him the 2004 Aventis Prize), The Life and Times of the Thunderbolt Kid, and At Home. He lives in England with his wife.
Search for related items by subject