---
Without merit [electronic resource] Colleen Hoover.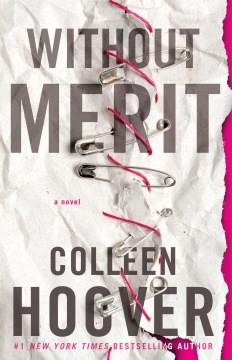 eBOOK
Electronic resources
Record details
ISBN:

9781501170638

(electronic bk)
Physical Description:

1 online resource
Content descriptions
| | |
| --- | --- |
| Summary, etc.: | From the #1 New York Times bestselling author of It Ends With Us and November 9 comes a moving and haunting novel of family, love, and the power of the truth."Not every mistake deserves a consequence. Sometimes the only thing it deserves is forgiveness." The Voss family is anything but normal. They live in a repurposed church, newly baptized Dollar Voss. The once cancer-stricken mother lives in the basement, the father is married to the mother's former nurse, the little half-brother isn't allowed to do or eat anything fun, and the eldest siblings are irritatingly perfect. Then, there's Merit. Merit Voss collects trophies she hasn't earned and secrets her family forces her to keep. While browsing the local antiques shop for her next trophy, she finds Sagan. His wit and unapologetic idealism disarm and spark renewed life into her—until she discovers that he's completely unavailable. Merit retreats deeper into herself, watching her family from the sidelines, when she learns a secret that no trophy in the world can fix. Fed up with the lies, Merit decides to shatter the happy family illusion that she's never been a part of before leaving them behind for good. When her escape plan fails, Merit is forced to deal with the staggering consequences of telling the truth and losing the one boy she loves. Poignant and powerful, Without Merit explores the layers of lies that tie a family together and the power of love and truth. |
| Reproduction Note: | Electronic reproduction. New York : Atria Books, 2017. Requires OverDrive Read (file size: N/A KB) or Adobe Digital Editions (file size: 4847 KB) or Kobo app or compatible Kobo device (file size: N/A KB) or Amazon Kindle (file size: N/A KB). |
Reviews
Booklist Reviews : Booklist Reviews 2017 September #2
Merit is ditching school and poking around in an antiques shop when she meets a really interesting guy, Sagan. They talk a little, then he gives her a sweeping, epic kiss, interrupted by his phone. Her twin, Honor, is calling him: he thought Merit was Honor. Merit is used to that sort of embarrassment and hides out in her room from the family she already dislikes. Eventually, she realizes that Sagan has moved in, so now she has to keep her feelings for him in check all the time. While Merit's mother lives in the basement and never leaves, her father tries to keep everyone on track, and every person in the house, except for Merit's four-and-a-half-year-old brother, has secrets. Merit knows most everything, and all the hidden truths and strong feelings fill her until she finally gets everyone's attention with a desperate act. Merit is complex and charming as she struggles with depression, and Hoover (It Ends with Us, 2016) shines here as she reveals hope glowing within a house of dysfunction. Copyright 2017 Booklist Reviews.
Search for related items by subject