---
Roses and radicals : the epic story of how American women won the right to vote / by Susan Zimet & Todd Hasak-Lowy.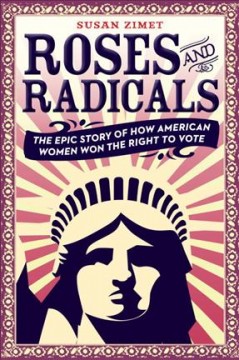 BOOK
Available copies
3 of 3 copies available at LARL/NWRL Consortium.
2 of 2 copies available at Lake Agassiz Regional Library. (Show preferred library)
Current holds
0 current holds with 3 total copies.
Record details
ISBN:

9780451477545

ISBN:

0451477545

ISBN:

9780425291467

ISBN:

0425291464

Physical Description:

160 pages : illustrations, portraits ; 24 cm

Publisher:

New York :

Viking,

2018.

Copyright:

©2018
Content descriptions
Bibliography, etc. Note:

Includes bibliographical references and index.

Summary, etc.:

"The United States of America is almost 250 years old, but American women won the right to vote less than a hundred years ago. And when the controversial nineteenth amendment to the U.S. Constitution-the one granting suffrage to women-was finally ratified in 1920, it passed by a mere one-vote margin. The amendment only succeeded because a courageous group of women had been relentlessly demanding the right to vote for more than seventy years. The leaders of the suffrage movement are heroes who were fearless in the face of ridicule, arrest, imprisonment, and even torture. Many of them devoted themselves to the cause knowing they wouldn't live to cast a ballot. The story of women's suffrage is epic, frustrating, and as complex as the women who fought for it. Illustrated with portraits, period cartoons, and other images, Roses and Radicals celebrates this captivating yet overlooked piece of American history and the women who made it happen"-- Provided by publisher.

Target Audience Note:

Ages 10 up.

Age 10+

Grade 4 to 6.
Reviews
Booklist Reviews : Booklist Reviews 2018 February #1
*Starred Review* There are many books about the women's suffrage movement and the leaders who pushed, marched, insisted, and persisted until voting rights became a reality. But few offer such a comprehensive overview while still being appealingly accessible to a middle-grade audience. The authors begin at England's 1840 World Anti-Slavery Convention, where Elizabeth Cady Stanton hoped to participate in the proceedings. Realizing that she was barred because "I was only a woman" was a shock to her system. But she used that shock to make waves in America, writing a Declaration of Sentiments that included the right to vote. Suffrage was a sticking point for even some of her cohorts, yet it soon became a rallying point, and almost 100 years later, a reality. This follows the struggles, intimidation, indignities, and disappointments that occurred on the road to the vote. The authors don't shy away from showing the women's imperfections; for instance, Stanton, infuriated that African American men were granted the right to vote before women, sometimes used racist imagery. Extra information comes in sidebars: the cleverly titled "Know Your Radicals" profiles more suffragettes, while "Putting It in Perspective" details other branches of reform movements. Plenty of photographs add interest, but the design is not exactly lively. Fortunately, the writing is, and lots of young people will find this eye-opening. Copyright 2018 Booklist Reviews.
Author Notes
Susan Zimet has dedicated her professional life to key public policy issues such as the environment, poverty, children and women's rights. She served for close to twenty years as an elected official representing New Paltz, NY. Like the suffragists in the story, Zimet stood up against powerful forces and was constantly covered in the press for challenging controversial issues. In 2019, Susan was appointed to serve as The Food and Policy Coordinator for the State of New York. Zimet is President of Zimet Group, Inc., and the President of 2020: Project Women, Inc. Roses and Radicals is her first book for young readers. She lives in Athens, New York, with her husband Steve.
Search for related items by subject