---
Barking with the big dogs : on writing and reading books for children / Natalie Babbitt ; introduction by Katherine Applegate.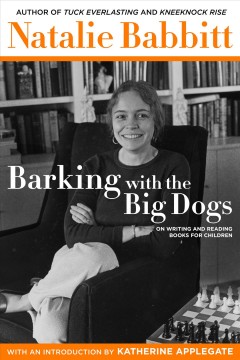 BOOK
Available copies
1 of 1 copy available at LARL/NWRL Consortium.
1 of 1 copy available at Lake Agassiz Regional Library. (Show preferred library)
Current holds
0 current holds with 1 total copy.
Record details
ISBN:

9780374310400

ISBN:

0374310408

Physical Description:

xiii, 256 pages : illustrations ; 24 cm

Edition:

First edition.

Publisher:

New York :

Farrar Straus Giroux,

2018.

Copyright:

©2018
Content descriptions
| | |
| --- | --- |
| General Note: | "A collection of essays and speeches by Natalie Babbitt" |
| Bibliography, etc. Note: | Includes bibliographical references. |
| Formatted Contents Note: | Happy endings? of course, and also joy (1970) -- The child as chimpanzee (1971) -- The great American novel for children-and why not? (1973) -- You must go home again (1978) -- Saying what you think (1981) -- The way we were-and weren't (1985) -- Something has to happen (1985) -- The roots and branches of fantasy (1986) -- Easy does it (1986) -- Metamorphosis (1987) -- A question from Justine (1987) -- The purpose of literature-and who cares? (1989) -- Darkness and light (1990) -- Protecting children's literature (1990) -- Beacons of light (1993) -- Finding paths (1999) -- New world, no world (2001) -- We're all mad here (2004). |
| Summary, etc.: | "In this collection of essays and speeches written over the course of four decades, the beloved author of Tuck Everlasting explores what it was like to be a 'little dog' in the literary world, continually being asked to explain her choice to create books for young readers instead of doing something more serious for adults. Assembled by the author before her death, these pieces range far and wide in subject matter, from issues of responsibility when writing for children to the question of whether writers know what they are really saying -- and whether that matters. Babbitt offers incisive commentary on classic children's books as well as contemporary works, and reveals colorful insights into her published books and her own personal creative life. Some of the pieces gathered here were written to be spoken, and some were written to be read, yet in all of them Natalie Babbitt's distinctive voice comes through. It is the same voice we hear in her fiction: straightforward, a little droll, playful about serious things and serious about playful things. On every page, Barking with the Big Dogs exemplifies true reverence for children and an endless engagement with the challenge to write the books that shape them." -- From publisher's description. |
| Language Note: | Text in English. |
Reviews
Booklist Reviews : Booklist Reviews 2018 October #1
Yes, the titular big dogs are the authors and critics who populate the world of adult books. But, as Babbitt—the author of Tuck Everlasting (1975) and other staples of children's literature—demonstrates in this splendid collection of 18 essays and speeches, she could bark with the best of them. The evidence is arranged chronologically, the first piece appearing in 1970, the last, in 2004—a happy strategy as it allows readers to chart the evolution of the author's opinions and insights. Though their subjects vary, the pieces have in common their excellence. As for their content—well, let Babbitt say it: "Some of us will write about ideas and snippets of philosophy we find puzzling and interesting." And it is ideas that inform her writing and, yes, philosophy, too. In terms of her emotional themes, the unifying element is, she says, the special joy that is found only in children's literature. It is children, as well as literature, who capture and hold her attention. She is a stalwart defender of both. As for her work, it speaks, or barks, for itself. Copyright 2018 Booklist Reviews.
Author Notes
Natalie Babbitt (1932–2016) began her career in 1966 as the illustrator of The Forty-Ninth Magician, written by her husband. Her first novel, The Search for Delicious, established her gift for writing magical tales with profound meaning. Kneeknock Rise earned her a Newbery Honor Medal, and in 2002, Tuck Everlasting, her most popular book, was adapted into a major motion picture.
Search for related items by subject