---
The personality brokers : the strange history of Myers-Briggs and the birth of personality testing / Merve Emre.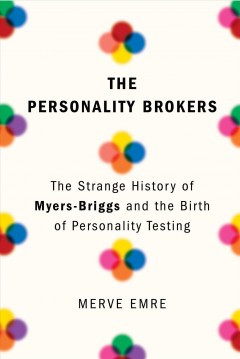 BOOK
Available copies
1 of 2 copies available at LARL/NWRL Consortium.
1 of 2 copies available at Lake Agassiz Regional Library. (Show preferred library)
Current holds
0 current holds with 2 total copies.
Record details
ISBN:

9780385541909

ISBN:

0385541902

ISBN:

9781101974148

ISBN:

1101974141

Physical Description:

xxii, 307 pages : illustrations ; 25 cm

Edition:

First edition.

Publisher:

New York :

Doubleday,

[2018]
Content descriptions
| | |
| --- | --- |
| Bibliography, etc. Note: | Includes bibliographical references and index. |
| Formatted Contents Note: | The cosmic laboratory of baby training -- Women's work -- Meet yourself -- An unbroken series of successful gestures -- Desperate amateurs -- The science of man -- The personality is political -- Sheep and buck -- A perfect spy -- People's capitalism -- The house-party approach to testing -- That horrible woman -- The synchronicity of life and death -- One in a million -- Conclusion: True believers. |
| Summary, etc.: | "An unprecedented history of the personality test that has achieved cult-like devotion, devised a century ago by a pair of homemakers and found today in boardrooms, classrooms, and beyond. The Myers-Briggs Type Indicator is the most popular personality test in the world. It has been harnessed by Fortune 100 companies, universities, hospitals, churches, and the military. Its language--of extraversion vs. introversion, thinking vs. feeling--has inspired online dating platforms and Buzzfeed quizzes alike. And yet despite the test's widespread adoption, experts in the field of psychometric testing, a $500 million industry, struggle to account for its success--no less to validate its results. How did the Myers-Briggs test insinuate itself into our jobs, our relationships, our Internet, our lives? First conceived in the 1920s by the mother-daughter team of Katherine Briggs and Isabel Briggs Myers, a pair of aspiring novelists and devoted homemakers, the Myers-Briggs was designed to bring the gospel of Carl Jung to the masses. But it would take on a life of its own, reaching from the smoke-filled boardrooms of mid-century New York to Berkeley, California, where it was honed against some of the twentieth century's greatest creative minds. It would travel across the world to London, Zurich, Cape Town, Melbourne, and Tokyo; to elementary schools, nunneries, wellness retreats, and the closed-door corporate training sessions of today. Drawing from original reporting and never-before-published documents, The Personality Brokers examines nothing less than the definition of the self--our attempts to grasp, categorize, and quantify our personalities. Surprising and absorbing, the book, like the test at its heart, considers the timeless question: What makes you you"-- Provided by publisher. |
Reviews
Booklist Reviews : Booklist Reviews 2018 August #1
This combined dual biography and social history seeks explanations for why an admittedly flawed, unscientifically proven personality test—created in the 1920s by a mother-daughter team of two untrained pseudointellectuals—continues to be the most revered personality indicator in existence. Many readers may remember their own results from having taken the Myers-Briggs Type Indicator, a written evaluation that sorts individuals according to four realms. Oxford professor Emre's readable account documents how complicated family relationships, Katharine Briggs' lifelong obsession with Karl Jung, and her daughter Isabel Briggs-Myers' shameless self-promotion and willingness to pursue any opportunity (training spies in World War II, ferreting out communist sympathizers, or seeking validation through publicized affiliation with celebrities, beatniks, hippies, and West Coast new agers) turned the Myers-Briggs into the most widely administered personality indicator, still endorsed today by major international industries and the U.S. government. The human race has been seeking personal validation since the early Greeks ("know thyself"); this eye-opening account gives readers insight into how one evaluation method morphed into a neat, satisfying packaging system for our complicated psyches. Copyright 2018 Booklist Reviews.
Author Notes
MERVE EMRE is an associate professor of English at the University of Oxford. She is the author of Paraliterary: The Making of Bad Readers in Postwar America. Her work has appeared or is forthcoming in The New Yorker, Harper's Magazine, Bookforum, The New York Times Magazine, The Atlantic, The New Republic, The Baffler, n+1, and the Los Angeles Review of Books, where she is senior humanities editor.
Search for related items by subject