---
Secrets of great second meals : flexible modern recipes that value time and limit waste / Sara Dickerman ; photographs by Sarah Flotard.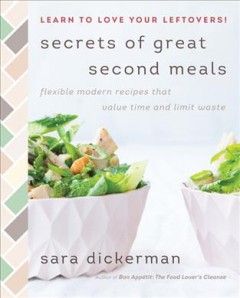 BOOK
Available copies
2 of 3 copies available at LARL/NWRL Consortium.
1 of 2 copies available at Lake Agassiz Regional Library. (Show preferred library)
Current holds
0 current holds with 3 total copies.
Record details
ISBN:

9780062672971

ISBN:

0062672975

Physical Description:

344 pages : color illustrations ; 24 cm

Edition:

First edition.

Publisher:

New York, NY :

William Morrow, an imprint of HarperCollinsPublishers,

[2019]

Copyright:

℗♭2019
Content descriptions
General Note:
"Learn to love your leftovers!"--Cover.
Includes index.

Formatted Contents Note:
Choose your own adventure -- Second-meal semantics -- Food waste, the new frontier -- Making the most of your food -- Reanimating stored food -- How to use this book -- Getting to cooked -- Snacks -- Eggs -- Salads -- Grains and legumes -- Soups and curries -- Comforting mains -- Sweets -- What's on hand?

Summary, etc.:
Discover the potential of your leftovers! Learn to cook smart, save time and money, and add new variety and flavor to your everday cooking.

Reviews
Booklist Reviews : Booklist Reviews 2018 December #2
Dickerman proves that there's more to leftovers than a quick reheat in the microwave. Cooked rice or oatmeal can become a pancake; last night's salmon dinner, when tossed together with some pasta, is a whole new dish; and yesterday's roasted cauliflower, pureed with herbs and garlic, makes a delicious dip. Dickerman provides simple-to-follow directions for dishes using leftovers readers will be well familiar with. Tips for successful first-meal prep, food storage, and reanimating stored food set readers up for the second-meal recipes that follow. A handy chart at the end of the book lists the extra foods by category (e.g. Fruits, Meats) and offers up their second-meal uses and recipes in this book, as well as special care instructions, days to keep, and whether the ingredient can be frozen. This book will appeal directly to those who are mindful of reducing their food waste, but anyone who has ever looked quizzically at a container of leftovers while trying to plan a new meal will find what they're looking for. Copyright 2018 Booklist Reviews.
Search for related items by subject