---
What my mother and I don't talk about : fifteen writers break the silence / edited by Michele Filgate.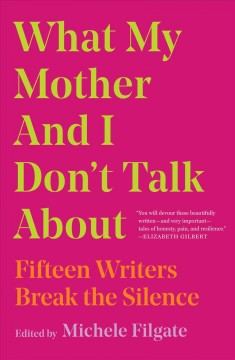 BOOK
Available copies
1 of 2 copies available at LARL/NWRL Consortium.
1 of 2 copies available at Lake Agassiz Regional Library. (Show preferred library)
Current holds
0 current holds with 2 total copies.
Location
Call Number / Copy Notes
Barcode
Shelving Location
Status
Due Date

Ada Public Library

306.8743 WHA

(Text)
33500013077417
New
Checked out
10/10/2019

Hendrum LINK Site

306.8743 WHA

(Text)
33500013055959
New
Available
-
Record details
ISBN:

9781982107345

ISBN:

1982107340

ISBN:

9781982107352

ISBN:

1982107359

Physical Description:

xviii, 267 pages ; 22 cm

Edition:

First Simon & Schuster hardcover edition.

Publisher:

New York :

Simon & Schuster,

2019.
Content descriptions
Formatted Contents Note:
What my mother and I don't talk about / Michele Filgate -- My mother's (gate) keeper / Cathi Hanauer -- Thesmophoria / Melissa Febos -- Xanadu / Alexander Chee -- 16 Minetta Lane / Dylan Landis -- Fifteen / Bernice L. McFadden -- Nothing left unsaid / Julianna Baggott -- The same story about my mom / Lynn Steger Strong -- While these things/Feel American to me / Kiese Laymon -- Mother tongue / Carmen Maria Machado -- Are you listening? / André Aciman -- Brother, can you spare some change? / Sari Botton -- Her body/my body / Nayomi Munaweera -- All about my mother / Brandon Taylor -- I met fear on the hill / Leslie Jamison.

Summary, etc.:
"From a critically acclaimed group of writers comes an essay collection about what they wish they could share with their mothers--the hilarious, the painful, the awkward, and the downright messy. Raw and poignant, this is an anthology that will resonate with anyone who's ever had a mother." -- Back cover.
"As an undergraduate, Michele Filgate started writing an essay about being abused by her stepfather. It took her more than a decade to realize what she was actually trying to write: how this affected her relationship with her mother. When it was finally published, the essay went viral, shared on social media by Anne Lamott, Rebecca Solnit, and many others. The outpouring of responses gave Filgate an idea, and the resulting anthology offers a candid look at our relationships with our mothers. While some of the writers in this book are estranged from their mothers, others are extremely close. Leslie Jamison writes about trying to discover who her seemingly perfect mother was before ever becoming a mom. In Cathi Hanauer's hilarious piece, she finally gets a chance to have a conversation with her mother that isn't interrupted by her domineering (but lovable) father. André Aciman writes about what it was like to have a deaf mother. Melissa Febos uses mythology as a lens to look at her close-knit relationship with her psychotherapist mother. And Julianna Baggott talks about having a mom who tells her everything. As Filgate writes, 'Our mothers are our first homes, and that's why we're always trying to return to them.' There's relief in breaking the silence. Acknowledging what we couldn't say for so long is one way to heal our relationships with others and, perhaps most important, with ourselves."--Dust jacket.

Reviews
Booklist Reviews : Booklist Reviews 2019 March #1
*Starred Review* Ask 15 writers to share their most private thoughts about their perhaps most personal relationship, and prepare for fireworks. Filgate opens this lit-fuse collection with her essay on the abusive stepfather who tainted her relationship with her mother. The viral response to that piece, first published in Longreads, and the ultimate relief Filgate felt in writing it led her to gather these pieces from 14 other writers. Kiese Laymon explains why he wrote Heavy, winner of the 2019 Andrew Carnegie Medal, directly to his mother. Novelist Nayomi Munaweera discloses that her essay, relating the profound effects of her mother's lifelong emotional duress, "is the hardest thing she's written yet." André Aciman considers how his mother's deafness shaped her entire life, and made her a master of intimate communication. Seeking a topic that she and her mom don't readily discuss, Leslie Jamison must go back to a time before she was even born, through the autobiographical novel written by her mother's first husband. Sharing a very specific prompt while varying in nearly every other aspect—length, tone, style, approach—these essays, each one exceptional on its own, encompass both love and writing at their most vulnerable, and could power entire cities with their electricity. Copyright 2019 Booklist Reviews.
Search for related items by subject
You are now browsing LARL/NWRL Consortium
<< Previous Page
Shelf Browser
Next Page >>

306.8743 VAL

Thief River Falls Public Library

306.8743 VAL

Moorhead Public Library

306.8743 WAU

Detroit Lakes Public Library

306.8743 WAU

Barnesville Public Library

306.8743 WHA

Hendrum LINK Site

306.8743 WHA

Breckenridge Public Library

306.8743 WIN

Detroit Lakes Public Library

306.8743 WOO

Detroit Lakes Public Library

306.8743 XIN

Warroad Public Library