---
Beyond all reasonable doubt / Malin Persson Giolito ; translated from the Swedish by Rachel Willson-Broyles.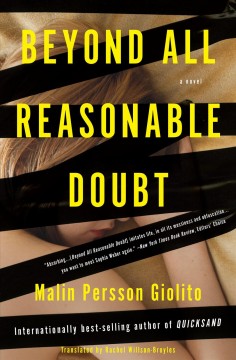 BOOK
Available copies
1 of 2 copies available at LARL/NWRL Consortium.
1 of 2 copies available at Lake Agassiz Regional Library. (Show preferred library)
Current holds
0 current holds with 2 total copies.
Record details
ISBN:

9781590519196

ISBN:

1590519191

Physical Description:

pages cm

Publisher:

New York :

Other Press,

[2019]
Content descriptions
| | |
| --- | --- |
| Summary, etc.: | "From the award-winning author of Quicksand, a gripping legal thriller that follows one woman's conflicted efforts to overturn what may be a wrongful conviction. I'm giving you a chance to achieve every lawyer's dream, said Sophia Weber's old professor. Freeing an innocent man. Thirteen years ago, a fifteen-year-old girl was murdered. Doctor Stig Ahlin was sentenced to life in prison. But no one has forgotten the brutal crime. Ahlin is known as one of the most ruthless criminals. When Sophia Weber discovers critical flaws in the murder investigation, she decides to help Ahlin. But Sophia's doing her utmost to get her client exonerated arouses many people's disgust. And the more she learns, the more difficult her job becomes. What kind of man is her client really? What has he done? And will she ever know the truth?"-- Provided by publisher. |
Reviews
Booklist Reviews : Booklist Reviews 2019 May #2
Award-winning Swedish author Giolito excels at portraying those accused of horrible crimes. Her previous novel, Quicksand (2017), focused on the trial of a teenage girl who was accused of a school shooting; this one follows the quest for a new trial of Stig Ahlin, a man accused of being both a pedophile and a murderer. Ostensibly, the work is a legal thriller starring Sophia Weber, the lawyer who may or may not take on the task of trying to free Ahlin. As in Quicksand, however, the plot frames what is the best part of the writing, an intricate examination of the psyches of criminals and those who work with them, accompanied by pointed questions about who is served by the justice system. While this is a fine novel on its own merits, it is perhaps a bit less compelling than its predecessor. Still, both novels are great reads, and libraries should have them on hand for when Netflix airs its production of Quicksand on April 15, 2019. Copyright 2019 Booklist Reviews.
Author Notes
Malin Persson Giolito was born in Stockholm in 1969 and grew up in Djursholm, Sweden. She holds a degree in law from Uppsala University and has worked as a lawyer for the biggest law firm in the Nordic region and as an official for the European Commission in Brussels, Belgium. Now a full-time writer, she is the author of four novels including Quicksand, named Best Swedish Crime Novel of the Year and now a Netflix original series. Persson Giolito lives with her husband and three daughters in Brussels.
 
Rachel Willson-Broyles holds a bachelor's degree in Scandinavian Studies from Gustavus Adolphus College in St. Peter, Minnesota. She started translating while a graduate student at the University of Wisconsin-Madison, where she received a PhD in Scandinavian Studies in 2013. Her translation of Malin Persson Giolito's Quicksand was published in 2017. Willson-Broyles lives in St. Paul, Minnesota.
Search for related items by subject