---
American prison : a reporter's undercover journey into the business of punishment / Shane Bauer.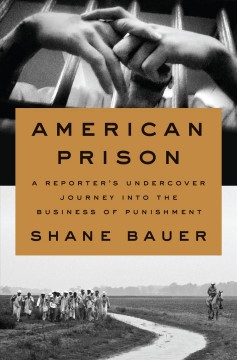 BOOK
Available copies
1 of 1 copy available at LARL/NWRL Consortium.
1 of 1 copy available at Lake Agassiz Regional Library. (Show preferred library)
Current holds
0 current holds with 1 total copy.
View other formats and editions
Location
Call Number / Copy Notes
Barcode
Shelving Location
Status
Due Date

Moorhead Public Library

365.973 BAU

(Text)
33500013094180

New

Available
-
Record details
ISBN:

9780735223585

ISBN:

0735223580

ISBN:

9780735223608

Physical Description:

351 pages, 16 unnumbered leaves of plates : illustrations ; 25 cm

Publisher:

New York :

Penguin Press,

2018.

Copyright:

©2018
Content descriptions
| | |
| --- | --- |
| Bibliography, etc. Note: | Includes bibliographical references (pages 331-338) and index. |
| Summary, etc.: | "A ground-breaking and brave inside reckoning with the nexus of prison and profit in America: in one Louisiana prison and over the course of our country's history. In 2014, Shane Bauer was hired for 9 dollars an hour to work as an entry-level prison guard at a private prison in Winnfield, Louisiana. An award-winning investigative journalist, he used his real name; there was no meaningful background check. Four months later, his employment came to an abrupt end. But he had seen enough, and in short order he wrote an expose about his experiences that won a National Magazine Award and became the most-read feature in the history of the magazine Mother Jones. Still, there was much more that he needed to say. In American Prison, Bauer weaves a much deeper reckoning with his experiences together with a thoroughly researched history of for-profit prisons in America from their origins in the decades before the Civil War. For, as he soon realized, we can't understand the cruelty of our current system and its place in the larger story of mass incarceration without understanding where it came from. Private prisons became entrenched in the South as part of a systemic effort to keep the African-American labor force in place in the aftermath of slavery, and the echoes of these shameful origins are with us still. The private prison system is deliberately unaccountable to public scrutiny. Private prisons are not incentivized to tend to the health of their inmates, or to feed them well, or to attract and retain a highly-trained prison staff. Though Bauer befriends some of his colleagues and sympathizes with their plight, the chronic dysfunction of their lives only adds to the prison's sense of chaos. To his horror, Bauer finds himself becoming crueler and more aggressive the longer he works in the prison, and he is far from alone. A blistering indictment of the private prison system, and the powerful forces that drive it, American Prison is a necessary human document about the true face of justice in America"-- Provided by publisher. |
Reviews
Booklist Reviews : Booklist Reviews 2018 August #1
Bauer's amazing book examines one of slavery's toxic legacies, using convicted people to make profit, through a dual approach. The first is historical, tracing southern states' exploitation of the Thirteenth Amendment, which abolished slavery and forced labor "except as punishment for a crime." Convicts could be legally forced to labor, and a variety of sadistic tortures increased their productivity significantly over "free" labor. This loophole incentivized the incarceration of large numbers of mostly African American people. Convict labor leasing created much infrastructure in the South, popularized the chain gang, and often led to convicts' deaths. Bauer's second approach details his personal account of the four months in 2014-15 during which he worked as a correctional officer in a Louisiana prison, earning $9 per hour, for the Corrections Corporation of America. Frustrated with the lack of transparency and accountability in the for-profit prison industry, Bauer went undercover in hope of obtaining accurate information. Bauer also examines his own motivations, ethics, and behavior during this period and does not spare himself. In short, he observes an acutely dangerous and out-of-control environment created by CCA's profit-driven underpaying of staff and understaffing of prisons. Bauer's historical and journalistic work should be required reading. Copyright 2018 Booklist Reviews.
Author Notes
Shane Bauer is a senior reporter for Mother Jones. He is the recipient of the National Magazine Award for Best Reporting, Harvard's Goldsmith Prize for Investigative Reporting, Atlantic Media's Michael Kelly Award, the Hillman Prize for Magazine Journalism, and at least 20 others. Bauer is the co-author, along with Sarah Shourd and Joshua Fattal, of a memoir, A Sliver of Light, which details his time spent as a prisoner in Iran.
Search for related items by subject