---
Revolutionary brothers : Thomas Jefferson, the Marquis de Lafayette, and the friendship that helped forge two nations / Tom Chaffin.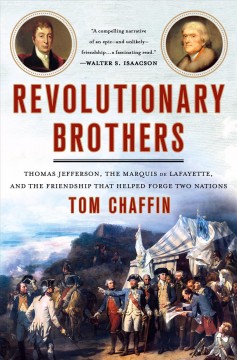 BOOK
Available copies
1 of 1 copy available at LARL/NWRL Consortium.
1 of 1 copy available at Lake Agassiz Regional Library. (Show preferred library)
Current holds
0 current holds with 1 total copy.
Location
Call Number / Copy Notes
Barcode
Shelving Location
Status
Due Date

Fosston Public Library

920 CHA

(Text)
33500013168661

New

Available
-
Record details
ISBN:

9781250113726

ISBN:

1250113725

Physical Description:

pages cm

Edition:

First edition.

Publisher:

New York :

St. Martin's Press,

2019.
Content descriptions
| | |
| --- | --- |
| Bibliography, etc. Note: | Includes bibliographical references and index. |
| Formatted Contents Note: | The road rises, 1743- -- La Victoire -- "My heart was enlisted" -- "Beyond the reach of pursuers" -- The pursuit of happiness -- To Philadelphia -- City Tavern -- Converging paths, 1778- -- "To learn, and not to Teach" -- Renown -- Soldier's Friend -- Stargazer -- "No One Better Situated" -- À Hunting with the King -- Burdens Wrong to Decline -- Blast Like an Earthquake -- In Common Cause, 1781- -- The Latitude of His plans -- Flattered by the command -- A Rumors gone abroad -- The Enemy at Monticello -- A Good School for Me -- To Do Some Very Good Things -- Yorktown -- Taps -- Parisiens, 1782- -- More Mortification Than Any of My Life -- Your Name Here Is Held in Veneration -- Paris autumn -- All the gratitude which this country can render -- Diplomats -- Te deum -- The Patriarch of Passy -- Holy Roman Empire -- Hôtel de Langeac -- England -- Historical scenes -- No rose without its thorn. |
Reviews
Booklist Reviews : Booklist Reviews 2019 October #2
The period covered by this book was as momentous as any in the history of France or the U.S. The events of the French Revolution and its aftermath occurred roughly simultaneously with America's transition to, and ratification of, the Constitution. Countering the prevailing American ignorance—then and now—about French aristocrat the Marquis de Lafayette, Chaffin traces the heroic and youthful Frenchman (not quite 20 years old when first wounded fighting in America) from his pre-revolutionary roots. Chaffin occasionally loses sight of the ostensible focus of his book, the friendship that developed between its two principals, Thomas Jefferson and Lafayette, who played significant roles in both revolutions, but the book is, nonetheless, an insightful dual biography of the wealthy but idealistic French aristocrat and the flawed intellectual giant on the American side. Chaffin is strong on the international aspects, but he is less certain on the personal, including Jefferson's romantic (or semiromantic) relationships. Lafayette's reunion with the elderly Jefferson in 1824 is the book's emotional high point. Copyright 2019 Booklist Reviews.
Author Notes
Tom Chaffin is the author of, among other books, Giant's Causeway: Frederick Douglass's Irish Odyssey and the Making of an American Visionary; Sea of Gray: The Around-the-World Odyssey of the Confederate Raider Shenandoah; and Pathfinder: John Charles Frémont and the Course of American Empire. His writings have also appeared in the New York Times, the Oxford American, Time, Harper's, and other publications. He lives in Atlanta.
Search for related items by subject