---
Visual galaxy : the ultimate guide to the Milky Way and beyond / by Joan A. Catala [and 10 others] ; foreward by Chris Hatfield.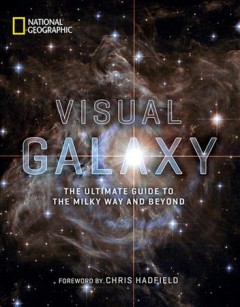 BOOK
Available copies
1 of 2 copies available at LARL/NWRL Consortium.
1 of 2 copies available at Lake Agassiz Regional Library. (Show preferred library)
Current holds
0 current holds with 2 total copies.
Record details
ISBN:

9781426220609

ISBN:

142622060X

Physical Description:

320 pages : illustrations (chiefly color) ; 30 cm

Publisher:

Washington, D.C :

National Geographic,

2019.
Content descriptions
| | |
| --- | --- |
| General Note: | Includes index. |
| Formatted Contents Note: | A great spiral in space -- The parts of our galaxy -- Where stars live and die -- The evolution of stars -- Massive stars and star systems -- An ordinary star called the Sun -- The Sun and its influence on Earth -- The Solar System : a home for life -- The Earth and other rocky planets -- The gas planets, giants of the Solar system -- The minor bodies and interplanetary space -- Other Earths, other Suns -- The Milky Way in the cosmos. |
| Summary, etc.: | This compelling visual journey through our galaxy combines more than 350 photographs, illustrations, and graphics to present the universe as you've never seen it before. Visual Galaxy is a deep dive into the past, present, and future of our home galaxy, the Milky Way. In this mind-expanding visual tour through the cosmos, spectacular photographs are converted into interpretive graphics, starting with the sun and moving outward into space where stars are born, black holes lurk, and planets of diverse size and anatomy spin through their orbit. The final chapters locate our galaxy within the known universe and add a scintillating peek of other exoplanets in the cosmos. Detailed maps and fascinating imagery from recent space missions are paired with clear, authoritative scientific information. |
Reviews
Booklist Reviews : Booklist Reviews 2019 December #1
The facts about the origins, structures, elements, and forces of our solar system, galaxy, and the vast whirling cosmos beyond are exceedingly difficult to grasp for most of us. Images help, and we've been fortunate in the dazzle of photographs from the Hubble Space Telescope and space probes. Now this superbly designed and handsomely produced volume takes the art of astroimagery a giant step forward, drawing on the latest detection methods and imagining technology. The result is an illuminating combination of spectacular photographs, pinpoint infographics, and dramatic illustrations accompanied by succinct and compelling captions. The "wow" factor is high on every page and the clarifying takeaways are many, from new understandings of the orbits and rotations within the vast Milky Way, its "supermassive black hole," and mysterious halo that emits no light to our solar system's place on its Orion Arm (one of six) to the ferocious dynamics of the sun and the rocky terrain of our planetary neighbors to exoplanets and stellar nurseries. This welcoming, visually elucidating guide to the galaxy will inform and delight readers both scientifically inclined and science-leery. Copyright 2019 Booklist Reviews.
Author Notes
One of the world's leading nonfiction publishers, NATIONAL GEOGRAPHIC has published more than 1,700 titles, featuring such categories as history, travel, nature, photography, space, science, health, biography, and memoir. A portion of its proceeds is used to fund exploration, conservation, and education through ongoing contributions to the work of the National Geographic Society.

CHRIS HADFIELD, the first Canadian astronaut to space walk, served as Commander of the International Space Station in 2013. His books, photographs, and videos chronicling his voyages in space have made Hadfield a celebrity around the world.
Search for related items by subject