---
The Little Women cookbook : tempting recipes from the March sisters and their friends and family / Wini Moranville ; with inspiring quotations from Louisa May Alcott.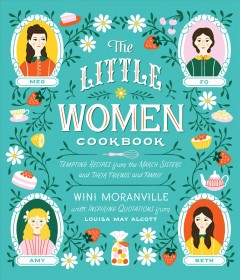 BOOK
Available copies
2 of 2 copies available at LARL/NWRL Consortium.
1 of 1 copy available at Lake Agassiz Regional Library. (Show preferred library)
Current holds
0 current holds with 2 total copies.
Record details
ISBN:

9781558329911

ISBN:

1558329919

Physical Description:

112 pages color illustrations, color portraits ; 23 cm.

Publisher:

Beverly, MA :

The Harvard Common Press,

2019.

Copyright:

℗♭2019.
Content descriptions
General Note:

"Celebrating the 150th anniversary of Louisa May Alcott's timeless and beloved novel, now a major motion picture!"--Slip around book cover.

Includes index.

Formatted Contents Note:

Hannah's breakfasts -- Gatherings with family and friends -- March family dinners and suppers -- Sweet treats, desserts, and drinks.

Summary, etc.:

"Experience the exciting and heartwarming world of the March sisters and Little Women right in your own kitchen. Here at last is the first cookbook to celebrate the scrumptious and comforting foods that play a prominent role in Louisa May Alcott's classic novel Little Women. If your family includes a Little Women fan, or if you yourself are one, with this book you can keep the magic and wonder of the beloved tale alive for years to come. Do you wonder what makes the characters so excited to make -- and eat! -- sweets and desserts like the exotically named Blancmange or the mysterious Bonbons with Mottoes, along with favorites like Apple Turnovers, Plum Pudding, and Gingerbread Cake? Find out for yourself with over 50 easy-to-make recipes for these delectable treats and more, all updated for the modern kitchen. From Hannah's Pounded Potatoes to Amy's Picnic Lemonade, from the charming Chocolate Drop Cookies that Professor Bhaer always offers to Meg's twins to hearty dinners that Hannah and Marmee encourage the March sisters to learn to make, you'll find an abundance of delicious teatime drinks and snacks, plus breakfasts, brunches, lunches, suppers, and desserts. Featuring full-color photos, evocative illustrations, fun and uplifting quotes from the novel, and anecdotes about Louisa May Alcott, this is a book that any Little Women fan will love to have"-- Provided by publisher.
Author Notes
Wini Moranville has been a food writer and editor for twenty-five years. She is the author of The Bonne Femme Cookbook: Simple, Splendid Food That French Women Cook Every Day and has contributed to many lifestyle magazines including Relish Magazine, Better Homes and Gardens, Country Home, Simply Perfect Italian, Holiday Appetizers, Holiday Celebrations, Holiday Menus, and Creative Home, among others. She has also served as a writer and editor for numerous cookbooks under the Better Homes and Gardens imprint, including three editions of the iconic Better Homes and Gardens New Cook Book. During her 15-year tenure as The Des Moines Register's chief restaurant reviewer, she wrote over 750 dining reviews. A fan of both France and Louisa May Alcott, Wini&;s next project is a travelogue that traces the author&;s extensive travels through France. 
Louisa May Alcott was an American novelist best known as author of the novel Little Women and its sequels Good Wives, Little Men, and Jo's Boys. Raised in New England by her transcendentalist parents, Abigail May and Amos Bronson Alcott, she grew up among many of the well-known intellectuals of the day, such as Ralph Waldo Emerson, Nathaniel Hawthorne, and Henry David Thoreau. Nevertheless, her family suffered severe financial difficulties and Alcott worked to help support the family from an early age. She began to receive critical success for her writing in the 1860s.
Search for related items by subject