---
I'm still here [electronic resource] : black dignity in a world made for whiteness. Austin Channing Brown.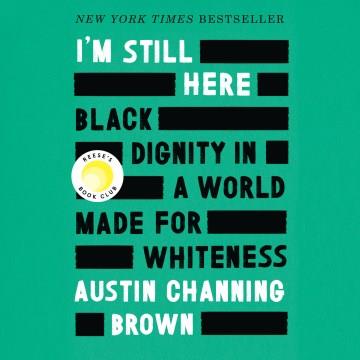 eAUDIOBOOK
Electronic resources
View other formats and editions
Record details
ISBN:

9780525588528

(sound recording)
Physical Description:

1 online resource (4 audio files) : digital

Edition:

Unabridged.

Publisher:

New York :

Random House Audio,

2018.
Content descriptions
| | |
| --- | --- |
| General Note: | Unabridged. |
| Participant or Performer Note: | Narrator: Austin Channing Brown. |
| Summary, etc.: | Austin Channing Brown's first encounter with a racialized America came at age seven, when she discovered her parents named her Austin to deceive future employers into thinking she was a white man. Growing up in majority-white schools and churches, Austin writes, "I had to learn what it means to love blackness," a journey that led to a lifetime spent navigating America's racial divide as a writer, speaker, and expert helping organizations practice genuine inclusion. In a time when nearly every institution (schools, churches, universities, businesses) claims to value diversity in its mission statement, Austin writes in breathtaking detail about her journey to self-worth and the pitfalls that kill our attempts at racial justice. Her stories bear witness to the complexity of America's social fabric-from Black Cleveland neighborhoods to private schools in the middle-class suburbs, from prison walls to the boardrooms at majority-white organizations. For readers who have engaged with America's legacy on race through the writing of Ta-Nehisi Coates and Michael Eric Dyson, I'm Still Here is an illuminating look at how white, middle-class, Evangelicalism has participated in an era of rising racial hostility, inviting the reader to confront apathy, recognize God's ongoing work in the world, and discover how blackness-if we let it-can save us all. |
| System Details Note: | Requires OverDrive Listen (file size: N/A KB) or OverDrive app (file size: 110046 KB). |
Reviews
Booklist Reviews : Booklist Reviews 2018 April #1
We've seen this before, persistent white refusal to acknowledge structural racism, the softening of America's racist history, and the lone black person as reluctant racism confessor for white colleagues. Now Brown explores racial ignorance within the white church, noting how Christian values of hope, forgiveness, and unconditional love do not seem to apply to black people but instead give "nice white people" a pass on their racism. Brown poignantly describes the death of her cousin in jail, "I had to reject the notion that my cousin's life was somehow less valuable because he did not meet 'Christian criteria' of innocence and perfection." In contrast, the "Black Jesus" of her home church "understood the accused, the incarcerated, the criminals," and expressed righteous anger towards the corrupt. Brown passionately rejects facile reliance on "hope," stating that "in order for me to stay in this work, hope must die" and "the death of hope gives way to a sadness that heals, to anger that inspires, to a wisdom that empowers me." An eloquent argument for meaningful reconciliation focused on racial injustice rather than white feelings. Copyright 2018 Booklist Reviews.
Search for related items by subject