---
The perfect pie [electronic resource] : your ultimate guide to classic and modern pies, tarts, galettes, and more. America's Test Kitchen.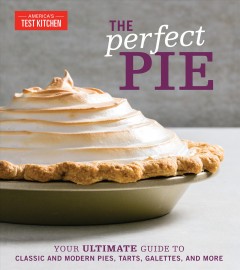 eBOOK
Electronic resources
Record details
ISBN:

9781945256967

(electronic bk)
Physical Description:

1 online resource
Content descriptions
| | |
| --- | --- |
| Summary, etc.: | Get the dough rolling and perfect your pie-making skills to bake beautiful, foolproof versions of the corner bakery classics and French patisserie favorites—plus a host of whimsical, modern pies and tarts of all kinds like sky-high meringue pies, uniquely flavored fruit pies with intricate lattice-woven tops, and lush elegant tarts. The Perfect Pie is the definitive guide to gorgeous pies and tarts. Maybe you want to master homespun pies that celebrate seasonal produce, or get creative with pastry-encased canvases for modern flavor profiles. No matter your pie preference, this collection will inspire you to bake. We've tested our way to the best techniques for building foolproof bakery-quality pies from the crust up: Learn how to create the flakiest pie crust from dough that's a breeze to roll. Become the expert in classics like Sweet Cherry Pie and also wow with pies that show off interesting flavors like Blueberry-Earl Grey Pie (tea is infused into the filling and an adorning glaze) or Browned Butter Butternut Squash Pie with Sage. Make meringues that don't weep, or fruit filling for Deep-Dish Apple Pie that doesn't shrink under the tall-standing top crust. Discover the world of tarts like Hazelnut-Raspberry Mousse Tart with looks that deceive its simplicity (we top crispy store-bought puff pastry with a quick mousse), sleek sesame brittle-decorated Chocolate-Tahini Tart, and rustic galettes. When you're ready to up your game, learn to design intricate pie tops (think: braided edges for Pecan Pie; a herringbone lattice pattern for Ginger Plum Pie; creative cutouts for Apricot, Vanilla Bean, and Cardamom Pie; and candied peanut clusters for Peanut Butter and Concord Grape Pie), fashion pies big (slab pies for a crowd) and small (muffin tin pies, jar pies, and pie pops), and use ingredients you may have never thought to put in pie like husk cherries or rose water. |
| Reproduction Note: | Electronic reproduction. New York : America's Test Kitchen, 2019. Requires OverDrive Read (file size: N/A KB) or Adobe Digital Editions (file size: 254719 KB) or Kobo app or compatible Kobo device (file size: N/A KB) or Amazon Kindle (file size: N/A KB). |
Reviews
Booklist Reviews : Booklist Reviews 2019 September #1
This all-things-pie collection starts, as most America's Test Kitchen (ATK) cookbooks do, with instructions for getting started that cover equipment, ingredients, and procedures integral to pie-making. Next comes a handful of classic, building-block pie recipes (deep dish apple, pumpkin) with photo-illustrated, step-by-step instructions. A pie parade—more than 150 fruit, cream, meringue, custard, chiffon, and ice cream pies; and tarts and free-form galettes—follows, ranging from few-step basics like key lime pie to more involved options like poached pear and almond tart. Sections on single-serving pies and regional favorites are particularly delightful. In the back of the book, readers will find 16 dough recipes, including vegan and gluten-free options, that are referenced throughout, as well as various toppings (whipped creams, berry coulis, hot fudge sauce). With their bounty of photos and information, ATK cookbooks are great for meeting readers right where they are, and while all home chefs can find a pie recipe here tailored to the skills they already have, they're bound to pick up more along the way. Copyright 2019 Booklist Reviews.
Author Notes
America&;s Test Kitchen is well-known for its top-rated television shows with more than 4 million weekly public television viewers, bestselling cookbooks, magazines, websites, and cooking school. The highly reputable and recognizable brands of America&;s Test Kitchen, Cook&;s Illustrated, and Cook&;s Country are the work of over 60 passionate chefs based in Boston, Massachusetts, who put ingredients, cookware, equipment, and recipes through objective, rigorous testing to identify the very best. Discover, learn, and expand your cooking repertoire with Julia Collin Davison, Bridget Lancaster, Jack Bishop, Dan Souza, Lisa McManus, Tucker Shaw, Bryan Roof, and our fabulous team of test cooks!
Search for related items by subject