---
Separate is never equal [electronic resource] : Sylvia Mendez and her family's fight for desegregation. Duncan Tonatiuh.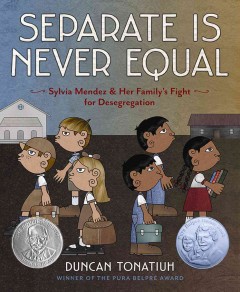 eBOOK
Electronic resources
View other formats and editions
Record details
ISBN:

9781613126332

(electronic bk)
Physical Description:

1 online resource
Content descriptions
Summary, etc.:

Almost 10 years before Brown vs. Board of Education , Sylvia Mendez and her parents helped end school segregation in California. An American citizen of Mexican and Puerto Rican heritage who spoke and wrote perfect English, Mendez was denied enrollment to a "Whites only" school. Her parents took action by organizing the Hispanic community and filing a lawsuit in federal district court. Their success eventually brought an end to the era of segregated education in California.

Target Audience Note:

Text Difficulty 3 - Text Difficulty 5

LG/Lower grades (K-3rd)

870 Lexile.

5.1 ATOS Level

Reproduction Note:

Electronic reproduction. New York : Abrams Books for Young Readers, 2014. Requires OverDrive Read (file size: N/A KB) or Kobo app or compatible Kobo device (file size: N/A KB) or Amazon Kindle (file size: N/A KB).
Reviews
Booklist Reviews : Booklist Reviews 2014 May #1
Pura Belpré Award–winning Tonatiuh (Pancho Rabbit and the Coyote, 2013) makes excellent use of picture-book storytelling to bring attention to the 1947 California ruling against public-school segregation. The concise, informative text, with occasional and always translated Spanish lines, discusses how being banned from enrolling in an Orange County grade school because of her skin tone and Mexican surname inspired Sylvia Mendez' family to fight for integrated schools. Soon they were joined by many others, including the NAACP and the Japanese American Citizens League, which led to their hard-won victory. Tonatiuh's multimedia artwork showcases period detail, such as the children's clothing and the differences between the school facilities, in his unique folk art style. An endnote essay recapping the events, photos of Sylvia and her schools, and a glossary and resource list for further research complete this thorough exploration of an event that is rarely taught. This would be a useful complement to other books about the fight for desegregation, such as Deborah Wiles' Freedom Summer (2001) or Andrea Davis Pinkney's Sit-In (2010). Copyright 2014 Booklist Reviews.
Author Notes
Duncan Tonatiuh was born in Mexico City and grew up in San Miguel de Allende. His books have received many awards over the years. He currently lives in San Miguel with his wife and children but travels to the US often.
Search for related items by subject