---
Without compromise : the brave journalism that first exposed Donald Trump, Rudy Giuliani, and the American epidemic of corruption / Wayne Barrett ; edited by Eileen Markey.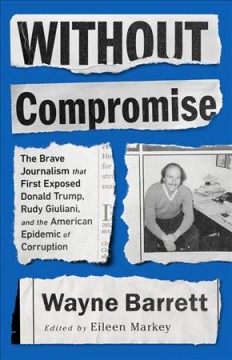 BOOK
Available copies
0 of 1 copy available at LARL/NWRL Consortium.
0 of 1 copy available at Lake Agassiz Regional Library. (Show preferred library)
Current holds
0 current holds with 1 total copy.
Location
Call Number / Copy Notes
Barcode
Shelving Location
Status
Due Date

Crookston Public Library

973.933 BAR

(Text)
33500013324504

New

Checked out
02/09/2021
Record details
ISBN:

9781645036531

ISBN:

1645036537

Physical Description:

xxvi, 351 pages : black and white illustrations ; 21 cm

Edition:

First edition.

Publisher:

New York, NY :

Bold Type Books,

2020.

Copyright:

©2020
Content descriptions
| | |
| --- | --- |
| General Note: | Includes index. |
| Formatted Contents Note: | Trump: moral larceny. Deal by deal / by Kim Philips-Fein -- Like father, like son: anatomy of a young power broker, January 15, 1979 -- Donald Trump cuts the cards: the deals of a young power broker, January 22, 1979 -- The seduction of Mario Cuomo, January 14, 1992 -- Crooks, scams, pols, and set-ups. The Barret book / by Errol Louis -- Runnin' scared, August 6, 1979 -- Amex' tax grab tower: probing the larest real estate deal in New York history, August 30, 1983 -- The seamy side of City Hall, October 4, 1983 -- Wayne Barrett, my broder from another moder / by Gerson Berrero -- How Ramon Valex bleeds New York: Señor Big, December 31, 1985 -- Patronage outrage, May 1, 1998 -- How to win contracts and influence people, March 18, 1986 -- Prince of the city. The journalist and the prosecutor / by Tim Robbins -- How Rudy Giuliani's budget will destroy the city, March 14, 1995 -- Cheap lives / by Tracie McMillan -- Rudy's Milky Way: an administration "of, for, and by White people" has no time or room for Blacks, January 26, 1999 -- Killer B and me / by Peter Noel -- The Yankees clean up man, May 1, 2007 -- Knock on every door / by Adam Fifield -- Rudi Giuliani's five big lies abou 9/11, July 31, 2007 -- The highest bidder. The price of money / by Jarrett Murphy -- Bloomberg's biggest scandal -- The Deutsche Bank Fire -- should be his downfall. Why isn't it?, July 22, 2009 -- Bloomberg keep his billions separate from his mayoral obligations? Yeah, right! September 1, 2009 -- Slouching toward Bethlehem. Defiant trepass / by Andrea Bernstein -- Trump's billionaire super pac also paying Rudi Giuliani's law firms, The Daily Beast, November 15, 2016 -- Never give up / by Jennifer Gonnerman -- Armed with a notebook. Time for something new, January 4, 2011 -- My old man / by Mac Barrett. |
| Summary, etc.: | "Wayne Barrett was a reporter for the Village Voice for close to 40 years, and was the first to report on the inside deals, backroom favors, and outright scams that fueled the career of Donald J. Trump. Barrett had the goods on Trump long before Trump had an inkling to be president-back when he was just a New York character, and a New York crook. This book is the first edited, annotated volume of Barrett's investigative pieces, revealing the shady dealings of New York power players from Donald Trump to Ed Koch to Rudy Giuliani. The book also provides a master class in investigative journalism. Barrett's craft and rigor were unmatched, and he taught generations of journalists how to connect the dots and find the patterns in the facts. In an age when journalism is under threat, Barrett's work reminds us of the possibility of journalism in the public interest, and the importance of journalists as detectives for the people, always holding the powerful to account"-- Provided by publisher. |
Author Notes
Wayne Barrett (1945-2017) was a celebrated investigative journalist. He spent much of his 40-year reporting career at the Village Voice, where he became, in the words of the Washington Post, "dreaded if not loathed" by public officials for his relentless exposure of such major political figures as Ed Koch, Rudy Giuliani, and Donald Trump. After his departure from the Village Voice, he became a fellow at Type Media Center, then known as The Nation Institute. He is the author of four books, including Trump: The Greatest Show on Earth (1992) and Rudy: An Investigative Biography of Rudolph Giuliani (2000).


Eileen Markey is an assistant professor of journalism at Lehman College of the City University of New York and a veteran NYC policy reporter who learned the power of facts and the joy of digging for them from Village Voice muckraker Wayne Barrett. She has written for, among others, The Daily Beast, The New Republic, The New York Times, City Limits, The Daily News, New York Magazine, WNYC New York Public Radio, The Wall Street Journal and The Village Voice. She's lectured widely on the role of religion in radical social movements. Markey is increasingly interested in archives and the role of public memory in shaping allegiances.
Search for related items by subject