---
Tiny tales : stories of romance, ambition, kindness, and happiness / by Alexander McCall Smith ; with illustrations by Iain McIntosh.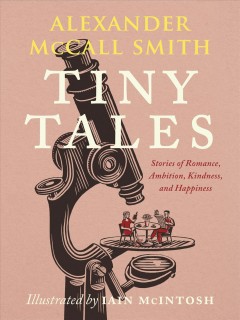 BOOK
Available copies
2 of 4 copies available at LARL/NWRL Consortium.
0 of 2 copies available at Lake Agassiz Regional Library. (Show preferred library)
Current holds
1 current hold with 4 total copies.
Record details
ISBN:

9780593316009

ISBN:

0593316002

Physical Description:

x, 226 pages : illustrations ; 18 cm

Edition:

First American Edition.

Publisher:

New York :

Pantheon Books,

[2021]

Copyright:

©2020
Content descriptions
| | |
| --- | --- |
| Formatted Contents Note: | Descent -- Sister Angelica -- By post -- Takahashi Ichiro, passenger-pusher -- Amuse-bouche: romance & relationships -- The first adventure of Pope Ron -- The Pope goes swimming -- You the Pope? -- The Pope in the country -- Pope Ron & the book club -- Pope Ron's friend -- Amuse-bouche: Larry Porker & his friends -- Jitan -- Edith van Twist, failed soprano -- Magnus Bjornbirgir, progressive Viking -- The handbag -- Amuse-bouche: children & their parents -- Housemates -- What happened three years later -- The mathematician -- Amuse-bouche: life & its pitfalls -- Mr. Nariman Sodawaterwalla meets Leila Commissariat on the eighth floor of the Cricket Hotel, Mumbai -- What happened to Phil Butters in the lift -- Amuse-bouche: Geoff's cat, Stanley -- On the way down -- Clarence Macphail -- Amuse-bouche: life & its further pitfalls -- In the swimming pool -- Boarding-school story -- The cure -- Amuse-bouche: Caesar & the world of Rome -- Four dentists go on holiday -- Harry Brick -- Amuse-bouche: more cats -- At the arachnophobia workshop -- Enlistment -- Lord Lucan, fugitive -- Little Piggish. |
| Summary, etc.: | "From the beloved author of the No. 1 Ladies' Detective Agency series comes a delightful compendium of very short fiction and comics that celebrate the joy and absurdity of the human experience. It is often said that the best things in life come in small packages--anyone in search of proof need look no further than the stories in this collection: brief, utterly engaging tales that offer lasting surprise and delight. From the original Greek financial crisis, when the profligate Gods of Olympus were punished by Odin and the other Norse Gods for their unchecked spending, to a handy unintended benefit of cosmetic surgery; from Pope Ron, the first Australian Pope, who wants nothing more than to live quietly, to a rather droll cat named Stanley, to Good President Wenceslas, benevolent leader of a snowy land: these stories are by turns funny, poignant, and deliciously wicked, each one a gift begging to be unwrapped and enjoyed again and again"-- Provided by publisher. |
Reviews
Booklist Reviews : Booklist Reviews 2021 April #2
*Starred Review* McCall Smith, internationally celebrated for his novels, especially the No. 1 Ladies' Detective Agency series, breaks new ground here with a collection of short stories spiked with some comics. The book is organized into thematic sections, including "Love," "Kindness," "Poignancy," and "Revenge," along with two especially whimsical sections: "Elevator Tales," about strange or serendipitous elevator encounters, and "Pope Ron," about the first Australian pope, who sports a tattoo of St. Francis of Assisi. McCall Smith's gift for quick characterization and his ability to conjure a range of moods, from philosophical to madcap, are on full display here. The best part of the book may be the sections titled "Amuse-Bouches." These are the graphic stories sprinkled throughout; artist Iain McIntosh, using heavy line drawings, illustrates McCall Smith's captions in panels that are sometimes zany-jokey, sometimes show sharp turns in fortune, and sometimes have an Aesop-like moral at the end. The "Amuse-Bouches" carry both serious and comic themes in groupings titled "Love," "Children and Their Parents," and "Life and Its Pitfalls" (with an incisive section called "Scientific Ethics: A Crash Course"). The graphic stories and the text-only ones all contain memorable characters, like a couple known as the "Virtue-Signallers," a Japanese passenger pusher, a contemporary Icarus on a hang glider, and a Russian cat with a face like Putin's. Quirky and delightful. Copyright 2021 Booklist Reviews.
Author Notes
ALEXANDER McCALL SMITH is the author of The No. 1 Ladies' Detective Agency novels and of a number of other series and stand-alone books. His works have been translated into more than forty languages and have been best sellers throughout the world. He lives in Scotland.
Search for related items by subject