---
Traditional crafts & skills from the country : from the garden to the kitchen, and from raising chickens to woodworking, a fresh and easy-to-follow approach to country wisdom / Monte and Joan Burch.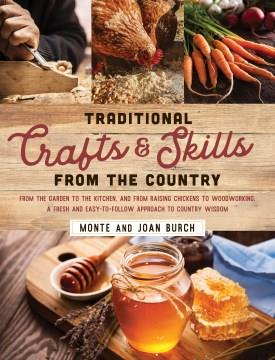 BOOK
Available copies
2 of 2 copies available at LARL/NWRL Consortium.
2 of 2 copies available at Lake Agassiz Regional Library. (Show preferred library)
Current holds
0 current holds with 2 total copies.
Record details
ISBN:

9781493061983

ISBN:

1493061984

Physical Description:

vi, 262 pages : illustrations ; 28 cm

Edition:

First Lyons Press paperback edition

Publisher:

Guilford, Connecticut :

Lyons Press,

2021.

Copyright:

©2003
Content descriptions
General Note:

Includes index.

Formatted Contents Note:

Part 1. Livestock. Cattle ; Swine ; Goats and Sheep ; Poultry ; Bees ; The Farm Pond -- Part 2. Gardens and Orchards. Gardens ; Berries ; The Home Orchard -- Part 3. From the Woodlot. Chainsaw Basics ; Cutting Trees ; Sawmills ; Log Construction ; Firewood -- Part 4. Old-Time Country Crafts. Basketry ; Corn Crafts ; Candle Making ; Making Soap ; Spinning, Dying, and Weaving ; Braided Rugs -- Part 5. From the Wild. Wild Greens ; Other Wild Plants ; Wild Nuts ; Wild Berries ; Wild Fruits ; Wild Spices and Teas -- Part 6. Preserving Foods. Cool Storage ; Curing, Drying, Smoking, and Salting Foods ; Canning Foods ; Freezing Foods ; Making Jellies, Jams, and Fruit Butters -- Part 7. Woodcrafting. Slab and Rustic Furniture ; Rustic Accessories -- Part 8. Around the Farm. Sharpening Tools ; Fencing ; Laying Stone ; Using an Axe -- Part 9. From the Kitchen. Dairy Products ; Grains and Grain Products -- Part 10. Woodsmanship. Reading the Weather ; Staying Found ; Trapping ; Knots -- Part 11. Home Butchering. Butchering Tools ; Butchering Poultry ; Butchering Pork ; Butchering Beef ; Butchering Lamb and Goats ; Butchering Venison and Big Game ; Index.

Summary, etc.:

A handbook for returning to "basics" includes instructions for beekeeping, raising farm animals, starting seeds, composting, fence building, laying stone, making butter, drying foods, and much, much more.

"Time-honored practices for a more self-reliant and satisfying lifestyle...Ever have the urge to raise your own chickens, grind your own flour, or start your own compost pile? If any of these ideas sound appealing, this is the book for you. A growing number of people are intrigued by the 'homesteader' experience and the idea of doing things themselves, whether they own a big spread in the wilderness or live on a small plot of land in the suburbs....Presents the practical information necessary to become more self-reliant at home, pick up a new hobby, or even learn a skill that may provide a secondary income. The authors' crafts and skills include: beekeeping; raising sheep and goats; starting seeds; composting; felling trees; building split-rail fences; making soap and candles; drying and preserving foods; laying stone; making butter and cheese; reading the weather; and much more. From raising livestock to woodcrafting, from the garden to the kitchen, Monte and Joan Burch have a fresh and easy-to-follow approach to country wisdom that is sure to win over even the most die-hard city dweller." ; Description provided by publisher.
Author Notes
MONTE BURCH has been writing about the outdoors for four decades, and is the author of thousands of magazine articles and more than fifty books--including Field Dressing and Butchering Upland Birds, Waterfowl, and Wild Turkeys;Field Dressing and Butchering Deer; Field Dressing and Butchering Rabbits, Squirrels, and Other Small Game; and Solving Squirrel Problems.

JOAN BURCH, born a city girl, first joined her husband on his family's farm, even performing butchering chores. She and Monte have lived the country life together for over thirty years. They live in Fair Grove, Missouri.
Search for related items by subject
Subject:
Home economics, Rural > Handbooks, manuals, etc.
Country life > Handbooks, manuals, etc.
Handicraft > Handbooks, manuals, etc.
Farms, Small > Handbooks, manuals, etc.
Agriculture > Handbooks, manuals, etc.

You are now browsing LARL/NWRL Consortium
<< Previous Page
Shelf Browser
Next Page >>

640 BRI

Crookston Public Library

640 BRI

Thief River Falls Public Library

640 BRI

Bagley Public Library

640 BRO

Greenbush Public Library

640 BUR

Detroit Lakes Public Library

640 BUT

Warroad Public Library

640 BUT

Crookston Public Library

640 BUT

Red Lake Falls Public Library

640 CAN

McIntosh Public Library