Search Results

Showing Item 1 of 1
Preferred library:

Lake Agassiz Regional Library

?
---
Secrets of the sprakkar : one small island nation, the women who live there, and how they are changing the world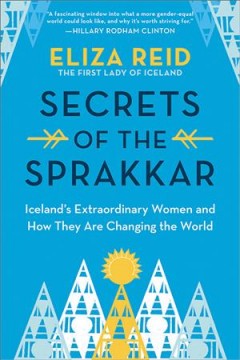 BOOK
Available copies
0 of 1 copy available at LARL/NWRL Consortium.
0 of 1 copy available at Lake Agassiz Regional Library. (Show preferred library)
Current holds
1 current hold with 1 total copy.
Location
Call Number / Copy Notes
Barcode
Shelving Location
Status
Due Date

LARL Cataloging

LARL94672

(Text)
LARL94672

New

On order
-
Record details
ISBN: 9781728242163
ISBN: 1728242169
ISBN: 9781728242170
Physical Description: print
pages cm
Publisher:

Naperville, Illinois :

Sourcebooks,

[2022]
Content descriptions
| | |
| --- | --- |
| Bibliography, etc. Note: | Includes bibliographical references and index. |
| Formatted Contents Note: | An immigrant in Iceland -- Helping parents helps us all -- The saga-era sprakki who defied convention -- The strength in sisterhood -- Stigma-free sexuality -- The no-holds-barred sprakki of the middle ages -- Claiming the corporate purse strings -- Bbeing seen and heard in the media -- The undaunted sprakki who fought for nature -- Finding harmony in the wild -- Art as an instrument of equality -- The sprakkar who rallied a nation -- No woman is an island -- The sprakki who shattered the glass ceiling -- Politics on her own terms -- Within reach. |
| Summary, etc.: | "Iceland is the best place on earth to be a woman-but why? For the past twelve years, the World Economic Forum's Global Gender Gap Report has ranked Iceland number one on its list of countries closing the gap in equality between men and women. What is it about Iceland that makes many women's experience there so positive? Why has their society made such meaningful progress in this ongoing battle, from electing the world's first female president to passing legislation specifically designed to help even the playing field at work and at home? And how can we learn from what Icelanders have already discovered about women's powerful place in society and how increased fairness benefits everyone? Eliza Reid, the First Lady of Iceland, examines her adopted homeland's attitude toward women-the deep-seated cultural sense of fairness, the influence of current and historical role models, and, crucially, the areas where Iceland still has room for improvement. Reid's own experience as an immigrant from small-town Canada who never expected to become a first lady is expertly interwoven with interviews with dozens of sprakkar ("extraordinary women") to form the backbone of an illuminating discussion of what it means to move through the world as a woman, and how the rules of society play more of a role in who we view as "equal" than we may understand. Secrets of the Sprakkar is a powerful and atmospheric portrait of a tiny country that could lead the way forward for us all"-- |
Reviews
Booklist Reviews : Booklist Reviews 2021 December #1
According to an Icelandic idiom, "A guest's eyes see more clearly." Reid, born in Canada and married to the president of Iceland, is uniquely placed to observe the country which leads the world in gender equality, providing generous parenting leave, abundant childcare, and free prenatal services. Reid, who has four children and works as a freelance journalist in addition to her First Lady duties, celebrates the government policies that make all this family support possible. As she interviews women making a difference in her country, she speaks frankly about her own struggles with parenting and living a life of purpose in her husband's shadow. Intercut within her chapters are profiles of sprakkar, an ancient Icelandic word for extraordinary or outstanding women. The portraits range from warrior women in the tenth century to modern women who rallied the nation and shattered glass ceilings. Reid doesn't claim that Iceland is paradise. There is still work to be done for women of color, immigrants, and women with diverse sexual preferences. But the tiny country of Iceland should serve as an inspiration to the rest of the world. Copyright 2021 Booklist Reviews.
Search for related items by subject
Search Results

Showing Item 1 of 1
Preferred library:

Lake Agassiz Regional Library

?