---
The science of plants : inside their secret world / Smithsonian ; in association with Royal Botanic Gardens, Kew ; senior editor, Helen Fewster ; US editors, Megan Douglass, Karyn Gerhard ; contributors, Jamie Ambrose, Dr. Ross Bayton, Matt Candeias, Dr. Sarah Jose, Andrew Mikoljaski, Esther Ripley, David Summers.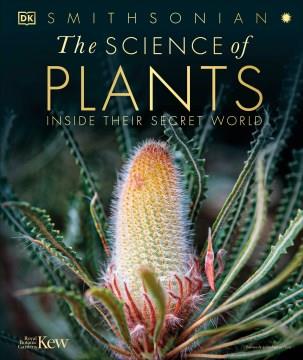 BOOK
Available copies
1 of 2 copies available at LARL/NWRL Consortium.
1 of 2 copies available at Lake Agassiz Regional Library. (Show preferred library)
Current holds
1 current hold with 2 total copies.
Record details
ISBN:

9780744048438

ISBN:

0744048435

Physical Description:

440 pages : color illustrations ; 31 cm

Edition:

American edition.

Publisher:

New York, New York :

DK,

2022.

Copyright:

©2022
Content descriptions
General Note:

"Content previously published as Flora in 2018"--Title page verso.

At head of title: Smithsonian.

Includes index.

Summary, etc.:

"Explore the intricate inner workings of the plant kingdom--where seeds become shoots, and flowers become fruits--with this spectacular introduction to botany and how plants work. Stunning photography and engaging text combine to explain the intimate secrets of both the familiar and exotic, from roses and lilies to rainforest orchids, mangroves, and cacti. Discover how plants in scorching deserts, on frozen mountain peaks, and along coastal shores adapt to the challenging conditions in which they grow. Learn how roots and leaves provide food and energy, and how plants deploy extraordinary strategies to protect their precious resources from animals and insects--from bristly stems, thorny branches, and sticky resin to chemical messages designed to attract help from other creatures. Chapters on roots, stems and branches, leaves, flowers, and seeds and fruits ensure that every part of the plant is thoroughly explored. Meet plants with leaves that eat meat, flowers that use color and scent to communicate with their pollinators, and trees that withstand hurricanes, as well as seeds and fruits designed to travel phenomenal distances to fertile ground. To complete the picture, there is a detailed catalog of more than 70 significant plant families--from onions and orchids to tree ferns, horsetails, and club mosses--together with a full list of all the families in the plant kingdom."
Author Notes
Published in association with the world famous center for botanical knowledge at the Royal Botanical Gardens, Kew, and the Smithsonian Institution—the world's largest museum and research complex.
 
Foreword writer Katherine J. Willis:  Professor Katherine Willis of Oxford University was the first Director of Science at Royal Botanical Gardens, Kew (2013–2018), where she was responsible for a science staff of 260 people, management of the extensive plant collections, and the development and implementation of a new science strategy and structure.
In 2014, Kathy presented a 25-part Radio 4 program Plants: From Roots to Riches, which explored our changing relationship with plants over the last 250 years. In August 2015, Kathy was awarded the prestigious Michael Faraday Prize from the Royal Society for her work in science communication. Kathy is also a member of the UK Government's Natural Capital Committee—an independent advisory body that focuses primarily on helping the government develop its 25-year environment plan. 
 


Search for related items by subject
Search for related items by series