---
The waiting place : when home is lost and a new one not yet found / Dina Nayeri ; photographs by Anna Bosch Miralpeix.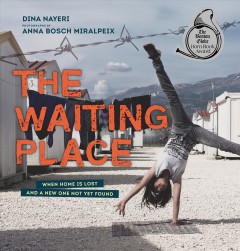 BOOK
Available copies
2 of 2 copies available at LARL/NWRL Consortium.
2 of 2 copies available at Lake Agassiz Regional Library. (Show preferred library)
Current holds
0 current holds with 2 total copies.
Record details
ISBN:

9781536213621

ISBN:

1536213624

Physical Description:

64 unnumbered pages : color illustrations ; 27 cm

Edition:

First edition.

Publisher:

Somerville, Massachusetts :

Candlewick Press,

2022.

Copyright:

©2022
Content descriptions
| | |
| --- | --- |
| Summary, etc.: | "The Waiting Place is an unflinching look at ten young lives suspended outside of time--and bravely proceeding anyway. Each lyrical passage leads the reader from one story to the next, revealing the dreams, ambitions, and personalities of each displaced child. The stories are punctuated by intimate photographs, followed by the author's reflections on life in a refugee camp. Locking the global refugee crisis sharply in focus, The Waiting Place is an urgent call to change what we teach young people about the nature of home and safety."-- Amazon.com. |
Reviews
Booklist Reviews : Booklist Reviews 2022 March #2
This is an unflinching look at the lives of a group of refugee children from Afghanistan and Iran who live in shipping crate shelters in a Greek refugee camp for months or years, hoping to be granted asylum. The camp, known as the Waiting Place, is its own character, keeping the children stuck indefinitely. Sparse text combined with Miralpeix's arresting full-page color photographs intimately capture the kids' daily lives. Despite their situation, many photos show the kids joyfully acting like kids: young Kosar jumps on her bed as she imagines "herself taking off like a bird to another place." In her afterword, Nayeri, a refugee herself, says the Waiting Place hasn't defeated everyone. She met children there who are "becoming braver, kinder, more astonishing versions of themselves." For American readers, this moving look at these young people and their hopes and dreams could lead to greater understanding and empathy for all displaced youth. Grades 5-8. Copyright 2022 Booklist Reviews.
Author Notes
Dina Nayeri is a former refugee and the author of the adult title The Ungrateful Refugee, a finalist for the Los Angeles Times Book Prize and the Kirkus Prize. Her work has been published in more than twenty countries and in The O. Henry Prize Stories, The Best American Short Stories, the New York Times, and many other publications. Of her work with Anna Bosch Miralpeix for The Waiting Place, she says, "Each morning we set off, me with my notebook, she with her camera and tripod, to see these brave little people fighting back against the waiting place—the monster that wants to get inside you, to change you." Dina Nayeri lives in Paris.

Anna Bosch Miralpeix is a documentary photographer whose projects include the award-winning Bubble Beirut. A graduate of the Institute of Photographic Studies of Catalonia, she is also a teacher and visual project developer. Anna Bosch Miralpeix lives in Barcelona.
Search for related items by subject