---
The facemaker : a visionary surgeon's battle to mend the disfigured soldiers of World War I / Lindsey Fitzharris.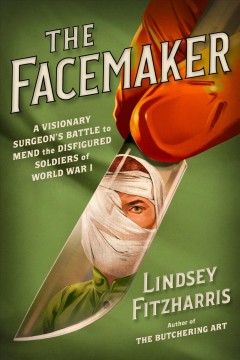 BOOK
Available copies
0 of 1 copy available at LARL/NWRL Consortium.
0 of 1 copy available at Lake Agassiz Regional Library. (Show preferred library)
Current holds
3 current holds with 1 total copy.
Location
Call Number / Copy Notes
Barcode
Shelving Location
Status
Due Date

Fertile Public Library

921 GIL

(Text)
33500013637160

New

Checked out
08/25/2022
Record details
ISBN:

9780374282301

ISBN:

0374282307

Physical Description:

xii, 315 pages, 16 unnumbered pages of plates : illustrations ; 24 cm

Edition:

First edition.

Publisher:

New York :

Farrar, Straus and Giroux,

2022.

Copyright:

©2022
Content descriptions
| | |
| --- | --- |
| Bibliography, etc. Note: | Includes bibliographical references (pages 253-294) and index. |
| Formatted Contents Note: | Prologue: "An unlovely object" -- The ballerina's rump -- The silver ghost -- Special duty -- A strange new art -- The chamber of horrors -- The mirrorless ward -- Tin noses and steel hearts -- The miracle workers -- The boys on blue benches -- Percy -- Heroic failures -- Against all odds -- All that glitters -- Epilogue: Cutting a path. |
| Summary, etc.: | "From the moment the first machine gun rang out over the Western Front, one thing was clear: mankind's military technology had wildly surpassed its medical capabilities. Bodies were battered, gouged, hacked, and gassed. The First World War claimed millions of lives and left millions more wounded and disfigured. In the midst of this brutality, however, there were also those who strove to alleviate suffering. Lindsey Fitzharris's The Facemaker tells the extraordinary story of such and individual: the pioneering plastic surgeon Harold Gilles, who dedicated himself to reconstructing the burned and broken faces of the injured soldiers under his care. Gilles, a Cambridge-educated New Zealander, became interested in the nascent field of plastic surgery after encountering the human wreckage on the front. Returning to Britain, he established one of the world's first hospitals dedicated entirely to facial reconstruction. There, Gillies assembled a unique group of practitioners whose task was to rebuild what had been torn apart, to re-create what had been destroyed. At a time when losing a limb made a soldier a hero but losing a face made him a monster to society largely intolerant of disfigurement, Gillies restored not just the faces of the wounded but also their spirits. The Facemaker places Gillies's ingenious surgical innovations alongside the dramatic stories of soldiers whose lives were wrecked and repaired. The result is a vivid account of how medicine can be an art, and of what courage and imagination can accomplish in the presence of relentless horror"--Dust jacket flap. |
Reviews
Booklist Reviews : Booklist Reviews 2022 May #1
In this commendable biography of Harold Gillies, Fitzharris (The Butchering Art, 2017) describes the beginning of modern facial reconstructive surgery amidst the ghastly violence of WWI. Gillies was a devoted, innovative surgeon who repaired severe facial war wounds at Britain's Queen's Hospital. There he led a multidisciplinary team, including dentists, doctors, and even an artist. The utilization of skin flaps, bone grafts, weighted dentures, and other procedures were the start of plastic surgery. Maxillofacial damage often impairs the ability to eat and speak. Facial disfigurement can negatively affect personality, mood, and relationships. Some patients required dozens of operations followed by long recoveries and lasting distress. Stirring stories of maimed soldiers and the compassionate hospital staff who cared for them enrich the narrative. Fitzharris vividly details mutilated faces and the savagery, suffering, and slaughter of war. The dead hung like laundry over barbed wire, covered inches deep with a black fur of flies. The empathetic, groundbreaking Gillies bemoaned the consequences of warfare. He prohibited mirrors on his hospital wards, and Fitzharris tells readers why: Broken faces frequently led to broken hearts during the war. Copyright 2022 Booklist Reviews.
Author Notes
Lindsey Fitzharris is the author of The Butchering Art: Joseph Lister's Quest to Transform the Grisly World of Victorian Medicine, which won the PEN/E. O. Wilson Award for Literary Science Writing and has been translated into multiple languages. Her TV series The Curious Life and Death of . . . aired on the Smithsonian Channel. She contributes regularly to The Wall Street Journal, Scientific American, and other notable publications, and holds a doctorate in the History of Science and Medicine from the University of Oxford.
Search for related items by subject