---
Escaping gravity : my quest to transform NASA and launch a new space age / Lori Garver ; foreword by Walter Isaacson.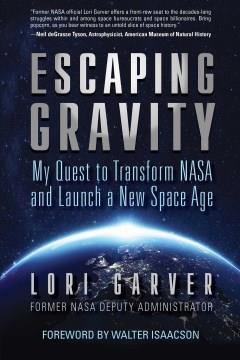 BOOK
Available copies
1 of 1 copy available at LARL/NWRL Consortium.
1 of 1 copy available at Lake Agassiz Regional Library. (Show preferred library)
Current holds
0 current holds with 1 total copy.
Record details
ISBN:

9781635767704

ISBN:

1635767709

Physical Description:

xx, 281 pages, 8 unnumbered pages of plates : color illustrations ; 24 cm

Edition:

First Diversion Books edition.

Publisher:

[New York, New York] :

Diversion Books,

2022.

Copyright:

©2022
Content descriptions
| | |
| --- | --- |
| Bibliography, etc. Note: | Includes bibliographical references (pages 252-274) and index. |
| Formatted Contents Note: | Foreword / by Walter Isaacson -- Timeline of key events in human spaceflight -- Prologue -- part 1. Gravity: Game changer ; Star struck ; Modern myths ; Risky business -- part 2. Force: Looking under the hood ; Heavy lift ; Dark matter ; Rise of the rocketeers -- part 3. Motion: It's not just rocket science ; Turning wrongs into rights ; Unleashing the dragon ; The value proposition ; Epilogue. |
| Summary, etc.: | "Escaping Gravity is former NASA Deputy Administrator Lori Garver's firsthand account of how a handful of revolutionaries overcame the political patronage and bureaucracy that threatened the space agency. The success of Elon Musk's SpaceX, Jeff Bezos' Blue Origin, Richard Branson's Virgin Galactic, and countless other commercial space efforts were preceded by decades of work by a group of people Garver calls "space pirates." Their quest to transform NASA put Garver in the crosshairs of Congress, the aerospace industry, and hero-astronauts trying to protect their own profits and mythology within a system that had held power since the 1950s. As the head of the NASA transition team for President-elect Barack Obama and second-in-command of the agency, Garver drove policies and funding that enabled commercial competition just as the capabilities and resources of the private sector began to mature. She was determined to deliver more valuable programs, which required breaking the self-interested space-industrial cycle that, like the military, preferred to spend billions of taxpayer dollars on programs aimed to sustain jobs and contracts in key congressional districts. The result: more efficiency and greater progress. Including insider NASA conversations and insights on how the US space industry has been transformed to become the envy of the world and is ushering in a new space age, Escaping Gravity offers a blueprint for how to drive productive and meaningful change" -- Provided by publisher. |
Reviews
Booklist Reviews : Booklist Reviews 2022 May #1
America's space program has undergone a seismic shift in recent years, from a partnership between the government and the aerospace industry to an open, competitive field for private start-ups like SpaceX and Blue Origin. Garver, a self-proclaimed space pirate, was a primary architect of this change, in a career spanning her time with the nonprofit National Space Society through two stints at NASA from 1996 to 2013, culminating in her confirmation as deputy administrator of the agency in 2009. Frustrated by NASA's lack of vision and progress in the decades after the Apollo program, Garver believes that expanding our space presence is essential to proper stewardship of the earth and a healthier future for humankind. She championed a more innovative and visionary direction, fueled by the conviction that private industry is better suited to developing cost-effective launch technology, which can free the government to pursue large-scale science and exploration. Her changes at NASA haven't been without controversy and criticism. She makes a compelling case and offers a hopeful vision for the future of America's space program. Copyright 2022 Booklist Reviews.
Search for related items by subject