---
Rising together : how we can bridge divides and create a more inclusive workplace / Sally Helgesen.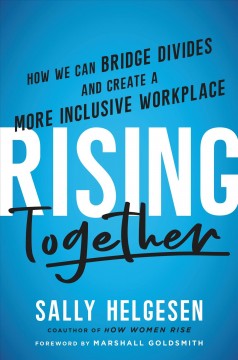 BOOK
Available copies
2 of 2 copies available at LARL/NWRL Consortium.
2 of 2 copies available at Lake Agassiz Regional Library. (Show preferred library)
Current holds
0 current holds with 2 total copies.
Record details
ISBN:

9780306828300

ISBN:

0306828308

Physical Description:

xxii, 215 pages ; 24 cm

Edition:

First edition.

Publisher:

New York :

Hachette Go Books,

2023.
Content descriptions
Bibliography, etc. Note:

Includes bibliographical references (pages 209-215).

Summary, etc.:

Focusing on behaviors rather than bias, the author offers practical ways to build more inclusive relationships, teams, and workplaces to identify specific tactics that can help people move forward.

"Participants at leadership conferences often tell Sally, "Please don't spend your time telling us why developing and retaining a diverse workforce is important. We get it. The problem is, we don't know how to do it." Rising Together provides that missing how in full detail by identifying both what holds us back and specific tactics that can help us move forward. First, Sally identifies the eight common triggers most likely to undermine our ability to collaborate across divides--not only of gender, but also of age, ethnicity, race, sexuality, and life experience. These triggers are widespread, yet rarely acknowledged. They include differences in how people from different backgrounds view ambition, competence, perceptions, fairness, communication, networks, attraction, and humor. Sally then offers specific practices designed to address these triggers: simple behavioral tweaks that we can use on a daily basis; a method for informally enlisting allies to hold us to account; and a means for cultivating and disseminating the dynamic power of we."--Inside front jacket flap
Author Notes
Sally Helgesen, cited in Forbes as the world's premier expert on women's leadership, is an internationally bestselling author, speaker, and leadership coach. She has been ranked #6 among the world's top 30 leadership thinkers by Global Gurus, honored by the coaching consortium MEECO for her transformational influence on organizational cultures, and chosen as the Thinkers 50/Marshall Goldsmith world's top coach for women leaders.
Sally's most recent book, How Women Rise, co-authored with legendary executive coach Marshall Goldsmith, examines the behaviors most likely to get in the way of successful women. It became the top-seller in its field within a week of publication and rights have been sold in 15 languages. Previous books include The Female Advantage: Women's Ways of Leadership, hailed as the classic and continuously in print since 1990, and The Female Vision: Women's Real Power at Work, which explores how women's strategic insights can strengthen their careers. The Web of Inclusion: A New Architecture for Building Great Organizations, was cited in The Wall Street Journal as one of the best books on leadership of all time and is credited with bringing the language of inclusion into business.
In addition to delivering leadership workshops and keynotes for companies around the world, Sally has consulted with the United Nations on building more inclusive country offices in Africa and Asia, led programs at the Harvard Graduate School of Education and Smith College and been visiting scholar at Northwestern University, U-Nordic Stockholm, and the Lauriston Institute Melbourne AU. She is a contributing editor for Strategy + Business magazine and a member of the MG 100 Coaching Network and the New York and International Women's Forums. She lives in the Hudson Valley.
Search for related items by subject