---
The shack / directed by Stuart Hazeldine ; screenplay by John Fusco and Andrew Lanham & Destin Cretton ; produced by Gil Netter, Brad Cummings ; Summit Entertainment presents ; in association with TIK Films (Hong Kong) Limited ; a Gil Netter production ; a Windblown Media production.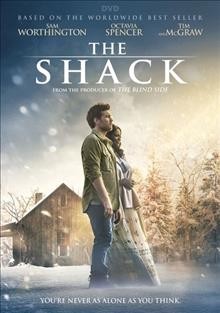 DVD VIDEO
Available copies
4 of 5 copies available at LARL/NWRL Consortium.
2 of 3 copies available at Lake Agassiz Regional Library. (Show preferred library)
Current holds
0 current holds with 5 total copies.
View other formats and editions
Record details
Physical Description:

1 videodisc (approximately 132 min.) : sound, color ; 4 3/4 in.

Publisher:

Santa Monica, California :

Summit Entertainment, LLC,

[2017]

Copyright:

©2017
Content descriptions
General Note:

Statement of responsibility taken from end credits.

Originally produced as a motion picture in 2017.

Based on the book by William Paul Young in collaboration with Wayne Jacobsen and Brad Cummings.

Widescreen (2.40:1).

Special features: Audio commentary with director Stuart Hazeldine; Touched by God: a writer's journey featurette; God's heart for humanity featurette; "Heaven knows": the power of song with Hillsong United; Something bigger than ourselves: the making of The shack featurette; Premiere night: a blessed evening; deleted scene.

Creation/Production Credits Note:

Director of photography, Declan Quinn ; production designer, Joseph Nemec ; edited by William Steinkamp ; costume designers, Stacy Caballero, Karin Nosella ; music by Aaron Zigman.

Participant or Performer Note:

Sam Worthington, Octavia Spencer, Avraham Aviv Alush, Radha Mitchell, Alice Braga, Graham Greene, Tim McGraw.

Summary, etc.:

After suffering a family tragedy, Mack Phillips spirals into a deep depression causing him to question his innermost beliefs. Facing a crisis of faith, he receives a mysterious letter urging him to an abandoned shack deep in the Oregon wilderness.

Target Audience Note:

MPAA rating: PG-13; for thematic material including some violence.

System Details Note:

DVD; NTSC, region 1; 16x9 widescreen (2.40:1) presentation; Dolby Digital 5.1.

Language Note:

English or Spanish dialogue; English described video; optional Spanish subtitles; English SDH (subtitles for the deaf and hard of hearing).
Search for related items by subject
LDR
04938cgm a2200949Ii 4500
001
253714
003
LARL_NWRL_CONSORTIUM
005
20170531163246.0
008
170419t20172017cau132 vleng d
007
vd cvaizq
040

.

‡a

TEFMT

‡b

eng

‡e

rda

‡c

TEFMT

‡d

OCLCO

‡d

TEF

‡d

OCLCF

‡d

TXLCL

‡d

JNE

‡d

IKG

‡d

INO

‡d

IZ2

‡d

NKM
024
1

.

‡a

031398258490
028
4
1

.

‡a

51514

‡b

Summit Entertainment
035

.

‡a

(OCoLC)982960372
037

.

‡b

Midwest Tape

‡n

http://www.midwesttapes.com
041
1

.

‡a

eng

‡a

spa

‡j

eng

‡j

spa

‡h

eng
043

.

‡a

n-us-or
082
0
4

.

‡a

791.43/72

‡2

23
245
0
4

.

‡a

The shack /

‡c

directed by Stuart Hazeldine ; screenplay by John Fusco and Andrew Lanham & Destin Cretton ; produced by Gil Netter, Brad Cummings ; Summit Entertainment presents ; in association with TIK Films (Hong Kong) Limited ; a Gil Netter production ; a Windblown Media production.
257

.

‡a

United States

‡a

Canada

‡2

naf
264
1

.

‡a

Santa Monica, California :

‡b

Summit Entertainment, LLC,

‡c

[2017]
264
4

.

‡c

©2017
300

.

‡a

1 videodisc (approximately 132 min.) :

‡b

sound, color ;

‡c

4 3/4 in.
306

.

‡a

021200
336

.

‡a

two-dimensional moving image

‡b

tdi

‡2

rdacontent
337

.

‡a

video

‡b

v

‡2

rdamedia
338

.

‡a

videodisc

‡b

vd

‡2

rdacarrier
344

.

‡a

digital

‡b

optical

‡g

surround

‡h

Dolby 5.1

‡2

rda
345

.

‡a

wide screen (2.40:1)

‡2

rda
346

.

‡b

NTSC

‡2

rda
347

.

‡a

video file

‡b

DVD video

‡e

region 1

‡2

rda
538

.

‡a

DVD; NTSC, region 1; 16x9 widescreen (2.40:1) presentation; Dolby Digital 5.1.
546

.

‡a

English or Spanish dialogue; English described video; optional Spanish subtitles; English SDH (subtitles for the deaf and hard of hearing).
500

.

‡a

Statement of responsibility taken from end credits.
511
1

.

‡a

Sam Worthington, Octavia Spencer, Avraham Aviv Alush, Radha Mitchell, Alice Braga, Graham Greene, Tim McGraw.
508

.

‡a

Director of photography, Declan Quinn ; production designer, Joseph Nemec ; edited by William Steinkamp ; costume designers, Stacy Caballero, Karin Nosella ; music by Aaron Zigman.
500

.

‡a

Originally produced as a motion picture in 2017.
500

.

‡a

Based on the book by William Paul Young in collaboration with Wayne Jacobsen and Brad Cummings.
500

.

‡a

Widescreen (2.40:1).
520

.

‡a

After suffering a family tragedy, Mack Phillips spirals into a deep depression causing him to question his innermost beliefs. Facing a crisis of faith, he receives a mysterious letter urging him to an abandoned shack deep in the Oregon wilderness.
521
8

.

‡a

MPAA rating: PG-13; for thematic material including some violence.
500

.

‡a

Special features: Audio commentary with director Stuart Hazeldine; Touched by God: a writer's journey featurette; God's heart for humanity featurette; "Heaven knows": the power of song with Hillsong United; Something bigger than ourselves: the making of The shack featurette; Premiere night: a blessed evening; deleted scene.
650
0

.

‡a

Life change events

‡v

Drama.
650
0

.

‡a

Missing children

‡v

Drama.
650
0

.

‡a

Faith

‡v

Drama.
650
0

.

‡a

Grief

‡v

Drama.
651
0

.

‡a

Oregon

‡v

Drama.
655
7

.

‡a

Religious films.

‡2

lcgft

‡0

(LARL_NWRL_CONSORTIUM)175793
655
7

.

‡a

Film adaptations.

‡2

lcgft

‡0

(LARL_NWRL_CONSORTIUM)175712
655
7

.

‡a

Fiction films.

‡2

lcgft

‡0

(LARL_NWRL_CONSORTIUM)175626
655
7

.

‡a

Feature films.

‡2

lcgft

‡0

(LARL_NWRL_CONSORTIUM)175625
655
7

.

‡a

Video recordings for the hearing impaired.

‡2

lcgft

‡0

(LARL_NWRL_CONSORTIUM)175744
655
7

.

‡a

Video recordings for people with visual disabilities.

‡2

lcgft

‡0

(LARL_NWRL_CONSORTIUM)175745
700
1

.

‡a

Hazeldine, Stuart,

‡d

1971-

‡e

film director.
700
1

.

‡a

Fusco, John,

‡e

screenwriter.

‡0

(LARL_NWRL_CONSORTIUM)131593
700
1

.

‡a

Lanham, Andrew,

‡e

screenwriter.
700
1

.

‡a

Cretton, Destin Daniel,

‡e

screenwriter.
700
1

.

‡a

Netter, Gil,

‡e

film producer.

‡0

(LARL_NWRL_CONSORTIUM)140723
700
1

.

‡a

Cummings, Brad

‡c

(Producer),

‡e

film producer.
700
1

.

‡a

Worthington, Sam,

‡d

1976-

‡e

actor.

‡0

(LARL_NWRL_CONSORTIUM)213184
700
1

.

‡a

Spencer, Octavia,

‡e

actor.

‡0

(LARL_NWRL_CONSORTIUM)209344
700
1

.

‡a

Alush, Avraham Aviv,

‡e

actor.
700
1

.

‡a

Mitchell, Radha,

‡e

actor.

‡0

(LARL_NWRL_CONSORTIUM)130383
700
1

.

‡a

Braga, Alice,

‡e

actor.

‡0

(LARL_NWRL_CONSORTIUM)208448
700
1

.

‡a

Greene, Graham,

‡d

1952-

‡e

actor.

‡0

(LARL_NWRL_CONSORTIUM)140995
700
1

.

‡a

McGraw, Tim,

‡e

actor.

‡0

(LARL_NWRL_CONSORTIUM)140545
700
1

.

‡a

Quinn, Declan,

‡d

1957-

‡e

director of photography.

‡0

(LARL_NWRL_CONSORTIUM)208717
700
1

.

‡a

Nemec, Joseph,

‡c

III,

‡e

production designer.
700
1

.

‡a

Steinkamp, William,

‡e

editor of moving image work.

‡0

(LARL_NWRL_CONSORTIUM)149236
700
1

.

‡a

Caballero, Stacy,

‡e

costume designer.
700
1

.

‡a

Nosella, Karin,

‡e

costume designer.
700
1

.

‡a

Zigman, Aaron,

‡e

composer (expression)

‡0

(LARL_NWRL_CONSORTIUM)149817
700
1

.

‡i

Motion picture adaptation of (work):

‡a

Young, William P.

‡t

Shack.
710
2

.

‡a

Summit Entertainment,

‡e

presenter,

‡e

publisher.

‡0

(LARL_NWRL_CONSORTIUM)136523
710
2

.

‡a

TIK Films (Firm),

‡e

presenter.
710
2

.

‡a

Gil Netter Productions,

‡e

production company.
710
2

.

‡a

Windblown Media,

‡e

production company.
730
0
2

.

‡i

Container of (work):

‡a

Shack (Motion picture : 2017)
730
0
2

.

‡i

Container of (expression):

‡a

Shack (Motion picture : 2017).

‡l

Spanish.
901

.

‡a

253714

‡b

OCoLC

‡c

253714

‡t

biblio

‡s

oclc