---
It's the manager : Gallup finds that the quality of managers and team leaders is the single biggest factor in your organization's long-term success / Jim Clifton ; Jim Harter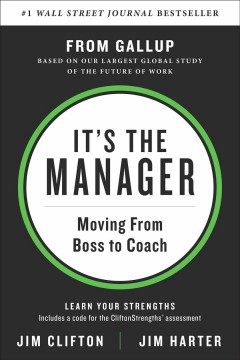 BOOK
Available copies
1 of 1 copy available at LARL/NWRL Consortium.
1 of 1 copy available at Lake Agassiz Regional Library. (Show preferred library)
Current holds
0 current holds with 1 total copy.
Location
Call Number / Copy Notes
Barcode
Shelving Location
Status
Due Date

Moorhead Public Library

658.4 CLI

(Text)
33500013094081
New
Available
-
Record details
ISBN:

1595622241

ISBN:

9781595622242

Physical Description:

433 pages : illustrations ; 24 cm

Publisher:

New York, NY :

Gallup Press,

[2019]
Content descriptions
| | |
| --- | --- |
| Bibliography, etc. Note: | Includes bibliographical references (379-427). |
| Formatted Contents Note: | Introduction: The new will of the world -- Strategy. What exactly should CEOs and CHROs change? -- Why organizational change is so hard -- Two non-negotiable traits for leaders -- Bring multiple teams together -- Make great decisions -- Culture. What is an organizational culture? -- Why culture matters -- How to change a culture -- Employment brand. Attracting the new workforce -- Hiring star employees -- Hiring analytics- the solution -- Where to find "game film" on future stars -- Five questions for onboarding -- Shortcut to development- strengths-based conversations -- CliftonStrengths 34 : a taxonomy of human potential -- Five steps to building a strengths-based culture -- The right expectations- competencies 2.0 -- Getting succession planning right -- The exit -- Boss to coach. Three requirements of coaching -- The five coaching conversations -- Pay and promotion -- Performance ratings: the bias -- Performance ratings: the fix -- Make 'my development" the reasons employees stay -- Moneyball for workplaces -- The team leader breakthrough -- Why employee engagement programs haven't worked -- Creating a culture of high development -- The five traits of great managers -- How to develop your managers -- The future of work. A quick review of what has changed in workplace -- Three requirements for diversity and inclusion -- Diversity and inclusion: "Treat me with respect" -- Diversity and inclusion : "value me for my strengths" -- Diversity and inclusion : "Leaders will do what is right" -- The gender gap -- Women in the workplace: the #MeToo era -- Women in the workplace : why the pay gap? -- Women in the workplace : work-life flexibility --- Are boomers a burden? -- Benefits, perks and flextime : What do employees really care about? -- How flextime and high performance can go hand in hand -- The new office -- Corporate innovation : how to manage- and nurture- and creativity -- You can't be "agile" without great managers -- Gig work : the new employer-employee relationship -- Gig workers : desperate or satisfied? -- Artificial intelligence has arrived. Now what? -- Artificial intelligence: preparing your workplace -- Caught up in technology- HCM systems and other solutions -- Better decision-Making with predictive analytics: moneyball for managers -- Appendixes : 1. Leading with your strengths: a guide to the 34 CliftonStrengths themes -- 2. Q12 : the 12 elements of great management -- 3. The relationships between engagement at work and organizational outcomes -- 4. The relationship between strengths-based employee development and organizational outcomes -- 5. Gallup meta-analytic study of managerial hiring and development profiles. |
| Summary, etc.: | "Who is the most important person in your organization to lead your teams through these changes? It's your managers. They're the ones who make or break your organization's success. Packed with 52 discoveries from Gallup's largest study of the future of work, It's the Manager shows leaders and managers how to adapt their organizations to rapid change- from new workplace demands to the challenges of managing remote employees, the rise of artificial intelligence, gig workers, and attracting and keeping today's best employees."--book jacket |
Author Notes
Jim Clifton is Chairman and CEO of Gallup and bestselling author of The Coming Jobs War and Born to Build. His most recent innovation, the Gallup World Poll, is designed to give the world's 7 billion citizens a voice in virtually all key global issues. Under Clifton's leadership, Gallup has expanded from a predominantly U.S.-based company to a worldwide organization with 40 offices in 30 countries and regions.

Jim Harter, Ph.D, is Chief Scientist—Workplace for Gallup. He has led more than 1,000 studies of workplace effectiveness, including the largest ongoing meta-analysis of human potential and business unit performance. The best-selling author of 12: The Elements of Great Managing and Wellbeing: The Five Essential Elements, Harter has also published articles in many prominent business and academic journals.


Search for related items by subject