---
The universe : a travel guide / Oliver Berry [and three others] ; with a foreword by Bill Nye the Science Guy.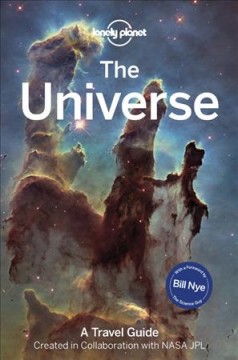 BOOK
Available copies
1 of 1 copy available at LARL/NWRL Consortium.
1 of 1 copy available at Lake Agassiz Regional Library. (Show preferred library)
Current holds
0 current holds with 1 total copy.
Record details
ISBN:

9781788686365

ISBN:

1788686365

Physical Description:

607 pages : colour illustrations ; 21 cm.

Publisher:

Carlton, Victoria :

Lonely Planet,

2019.

Copyright:

©2019.
Content descriptions
General Note:

"Created in collaboration with NASA JPL" -- Cover.

Includes index.

Summary, etc.:

The world's first and only guide to the Universe explores in detail the planets within our solar system and informs readers of their distance from Earth, temperature and atmosphere, before featuring recently discovered stars, galaxies and planets millions of light years away. Fascinating and engaging, with content provided by NASA, the world's foremost space authority.
Reviews
Booklist Reviews : Booklist Reviews 2020 May #2
*Starred Review* Travel books typically describe far-flung destinations, but readers will not be able to visit most of the places described here. After the introductory chapters, the book starts its exploration of the universe with our own solar system. It then dedicates a chapter to the sun, then each of the planets—including Earth—the moon, and Pluto. This covers more than half the book. The remaining chapters cover exoplanets (planets outside the solar system), stellar objects (including nebulas, stars, supernovas, and clusters), and galaxies. The full-color pictures are stunning; the narrative is well written, concise, and easy to understand; and the scope is as vast as the universe. Familiar Lonely Planet sidebars, such as "Top Tips," "Getting There and Away," and "Five Facts," are scattered throughout. Not without humor, one "Getting There and Away" sidebar for the Pinwheel Galaxy states, "At 21 million light years away, this one might be better to admire from afar." The book's layout is similar to that of a coffee-table book: full of breathtaking pictures, packed with interesting facts, and designed to be read in small or large pieces. Targeted to the general audience, The Universe is recommended as a reference about space. Copyright 2020 Booklist Reviews.
Search for related items by subject