---
Your subconscious brain can change your life : overcome obstacles, heal your body, and reach any goal with a revolutionary technique / Dr. Mike Dow.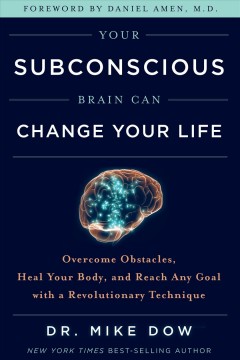 BOOK
Available copies
1 of 1 copy available at LARL/NWRL Consortium.
1 of 1 copy available at Lake Agassiz Regional Library. (Show preferred library)
Current holds
0 current holds with 1 total copy.
Location
Call Number / Copy Notes
Barcode
Shelving Location
Status
Due Date

Cormorant LINK Site

128.2 DOW

(Text)
33500013189824

New

Available
-
Record details
ISBN:

1401955851

ISBN:

9781401955854

Physical Description:

xxi, 263 pages ; 24 cm

Publisher:

Carlsbad, California :

Hay House INC,

2019.
Content descriptions
General Note:

Includes index.

Bibliography, etc. Note:

Includes bibliographical references (pages 244-254) and index.

Formatted Contents Note:

Part. I: Understanding your subconscious -- Chapter 1: Your subconscious always has your back -- Chapter 2: The science of the subconscious brain -- Chapter 3: A conscious start to subconscious healing: SVT step 1 -- Chapter 4: Activating the subconscious brain: SVT step 2 -- Chapter 5: Seamless SVT: Adding steps 3 through 7 -- Chapter 6: Power Boost SVT -- Part II: Putting SVT to work for you -- Chapter 7: SVT for letting go -- Chapter 8: SVT to stress less and conquer fears -- Chapter 9: SVT to boost your mood -- Chapter 10: SVT for habits and healthier living -- Chapter 11: SVT for healing your body, pain, and elusive conditions.

Machine generated contents note: pt. I Understanding Your Subconscious -- ch. 1 Your Subconscious Always Has Your Back -- ch. 2 The Science of the Subconscious Brain -- ch. 3 Conscious Start to Subconscious Healing: SVT Step 1 -- ch. 4 Activating the Subconscious Brain: SVT Step 2 -- ch. 5 Seamless SVT: Adding Steps 3 Through 7 -- ch. 6 Power Boost SVT -- pt. II Putting SVT to Work for You -- ch. 7 SVT for Letting Go -- ch. 8 SVT to Stress Less and Conquer Fears -- ch. 9 SVT to Boost Your Mood -- ch. 10 SVT for Habits and Healthier Living -- ch. 11 SVT for Healing Your Body, Pain, and Elusive Conditions.

Summary, etc.:

"New York Times best-selling author offers a groundbreaking approach to activate the subconscious brain to set yourself free from your past and create a terrific future. Can you remember a time in your life when you felt absolutely confident, happy, and free? Imagine what your life would be like if you could live in that space . . . In this book, Dr. Mike Dow shares a groundbreaking, life-changing program he created: Subconscious Visualization Technique (SVT). Now, if you think the subconscious brain is some woo-woo pseudoscience, prepare to have your mind blown. The cutting-edge research, protocol, and audio tracks Mike offers will help you speak directly to your subconscious brain and tap into your greatest strengths, gifts, and resources. His program, the first of its kind, starts with cognitive behavioral therapy (CBT), then incorporates various types of subconscious tools: mindfulness, guided visualization, audio-visual entrainment, and bilateral stimulation of the brain and body. Your subconscious can change the way you digest food, help you access memories and repressed feelings, boost your immune system, and activate mindbody healing so that you don't have to constantly treat your symptoms. Some examples of syndromes that SVT can treat include chronic pain, fibromyalgia, leaky gut, irritable bowel syndrome (IBS), migraines, anxiety disorders, and more! SVT helps you access the best parts of yourself and move into your true self. In short, your subconscious brain can change your life!" -- ONIX annotation.
Author Notes
Dr. Mike Dow is a psychotherapist, best-selling author, and brain-health expert. Dr. Mike has hosted shows on TLC, E!, VH1, and Investigation Discovery. He is a recurring guest co-host on The Doctors, is one of The Dr. Oz Show's core experts, and has made regular appearances on TODAY, Good Morning America, The Talk, Rachael Ray, Wendy: The Wendy Williams Show, Dr. Drew on Call, The Meredith Vieira Show, Ricki Lake, Anderson Live, and Bethenny. He is also a contributor for the Huffington Post. Dr. Mike holds a master of science degree in marriage and family therapy and a doctorate in psychology. He is in private practice in Los Angeles. You can hear him weekly on Hay House Radio's The Dr. Mike Show.
Search for related items by subject