---
Beyond : the astonishing story of the first human to leave our planet and journey into space / Stephen Walker.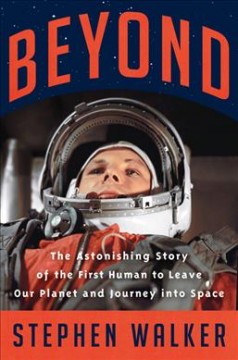 BOOK
Available copies
1 of 2 copies available at LARL/NWRL Consortium.
0 of 1 copy available at Lake Agassiz Regional Library. (Show preferred library)
Current holds
0 current holds with 2 total copies.
Record details
ISBN:

9780062978158

ISBN:

0062978152

Physical Description:

x, 502 pages, 16 unnumbered pages of plates : illustrations (some color) ; 24 cm

Edition:

First U.S. edition.

Publisher:

New York, NY :

Harper, an imprint of HarperCollinsPublishers,

[2021]

Copyright:

©2021
Content descriptions
Bibliography, etc. Note:

Includes bibliographical references (pages 419-486) and index.

Formatted Contents Note:

"Originally published in the United Kingdom in 2021 by William Collins, an imprint of HarperCollinsPublishers." -- Verso.

Prologue: Fifteen minutes before launch -- Four months earlier. Pallo's dogs ; Who let a Russian in here? ; The house in the forest ; Inauguration ; Shame and danger ; The American team ; The Soviet Team ; The King ; Subject 65 ; A hell of a ride -- Decision. The risk equation ; At our heals ; Ivan Ivanovich ; The biggest missile site in the world ; The price of progress ; Boosters and dummies ; The Military-Industrial Commission -- Final countdown. Brinkmanship ; Just in case ; The egg timer ; Chimp barbecue ; Chosen ; Opening pitch ; Roll out ; Night -- Launch. A mother's love ; Key to start ; The first seventeen minutes ; The next thirty-two minutes ; Moscow calling ; A beautiful halo ; Ba-boom! ; Gagarin's field ; Triumph and defeat ; The ball on the hill ; Party time -- Epilogue: Endgame.

Summary, etc.:

"A young Russian sits inside a tiny capsule on top of the Soviet Union's most powerful intercontinental ballistic missile--originally designed to carry a nuclear warhead--and blasts into the skies. His name is Yuri Gagarin. And he is about to make history. Traveling at almost 18,000 miles per hour--ten times faster than a rifle bullet--Gagarin circles the globe in just 106 minutes. From his windows he sees the earth as nobody has before, crossing a sunset and a sunrise, crossing oceans and continents, witnessing its beauty and its fragility. While his launch begins in total secrecy, within hours of his landing he has become a world celebrity--the first human to leave the planet."-- Publisher's description.
Reviews
Booklist Reviews : Booklist Reviews 2021 April #1
British author (Shockwave: Countdown to Hiroshima, 2005) and filmmaker (Young@Heart, 2007) Walker makes use of declassified material from the former Soviet Union to uncover for English-speaking audiences the real story of Yuri Gagarin and the other Soviet cosmonauts who beat America in the race to get the first person into outer space. Alternating the saga of the Soviet spacemen with the better-known NASA astronauts, Walker paints the less familiar cosmonauts as three-dimensional characters, not the ideologically driven caricatures of Cold War propaganda machines. Gagarin and his comrades were held in strictest secrecy as they prepared for their rocket rides, and Walker reveals some surprising facts such as Soviet cosmonauts having to be relatively short in order to fit in the smaller Soviet capsules. Walker also lays bare some of NASA's own fudging of truth as in its hiding of one Mercury astronaut's extramarital affair. Those fascinated by space exploration as well as its geopolitical importance in the last half of the twentieth century will find themselves engrossed in this detailed history. Includes bibliographic notes. Copyright 2021 Booklist Reviews.
Search for related items by subject