---
Mercury rising : John Glenn, John Kennedy, and the new battleground of the Cold War / Jeff Shesol.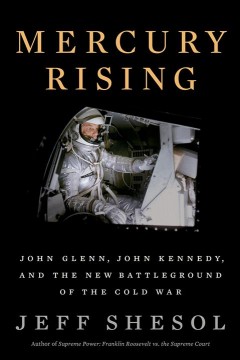 BOOK
Available copies
1 of 1 copy available at LARL/NWRL Consortium.
1 of 1 copy available at Lake Agassiz Regional Library. (Show preferred library)
Current holds
0 current holds with 1 total copy.
View other formats and editions
Location
Call Number / Copy Notes
Barcode
Shelving Location
Status
Due Date

Fertile Public Library

629.454 SHE

(Text)
33500013407663

New

Available
-
Record details
ISBN:

9781324003243

ISBN:

1324003243

Physical Description:

pages cm

Edition:

First edition.

Publisher:

New York, NY :

W.W. Norton & Company,

[2021]
Content descriptions
| | |
| --- | --- |
| Bibliography, etc. Note: | Includes bibliographical references and index. |
| Summary, etc.: | "A riveting history of the momentous Friendship 7 space flight that put America back into the space race. If the United States couldn't catch up to the Soviets in space, how could it compete with them on Earth? That was the question facing John F. Kennedy at the height of the Cold War-a moment when the Soviet Union built the wall in Berlin, tested nuclear bombs more destructive than any in history, and beat the US to every major milestone in space. The race to the heavens seemed a race for survival-and America was losing. When John Glenn blasted into orbit on February 20, 1962, his mission was greater than circling Earth; it was to calm the fears of the free world and renew America's sense of self-belief. Mercury Rising re-creates the sense of tension to a flight that riveted the world. Drawing on new sources, interviews, and Glenn's personal notes, Mercury Rising shows how the astronaut's heroics lifted the nation's hopes in what Kennedy called the "hour of maximum danger.""-- Provided by publisher. |
Reviews
Booklist Reviews : Booklist Reviews 2021 May #2
In the 1950s, America was jolted out of its complacency about NASA by the Soviet Union's successful launch of the first orbital satellite, Sputnik. The harsh realization that the U.S. was losing the space race galvanized support, both political and public, for what had been up until then a lackluster program. Shesol chronicles the early days of the space program with a historian's attention to detail and a novelist's flair for interesting storytelling. Given how successful NASA is today, most people don't realize what a disaster the space program was in the beginning, with more rockets blowing up on the pad than being launched. The story of how (and why) NASA so quickly got its act together is fascinating, as is the parallel story of the original seven Mercury astronauts, especially John Glenn, who were considered virtual superheroes at the time. The success of Glenn's mission, to riotous acclaim for the agency but especially for the man, kick-started America's space program into high gear and set it on the path to the moon. Copyright 2021 Booklist Reviews.
Search for related items by subject
Subject:
Project Mercury (U.S.)
Space flights.
Space race > United States.
Friendship 7 (Spacecraft)
Glenn, John, 1921-2016.
Kennedy, John F. (John Fitzgerald), 1917-1963 > Influence.
Astronautics and state > United States > History > 20th century.
Glenn, John, 1921-2016.
Kennedy, John F. (John Fitzgerald), 1917-1963.
Friendship 7 (Spacecraft)
Project Mercury (U.S.)
Astronautics and state.
Influence (Literary, artistic, etc.)
Space flights.
Space race.
United States.