---
Chasing the thrill : obsession, death, and glory in America's most extraordinary treasure hunt / Daniel Barbarisi.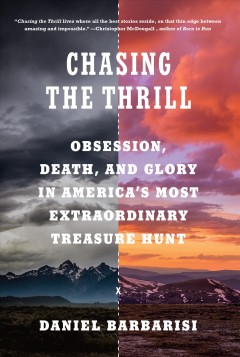 BOOK
Available copies
1 of 2 copies available at LARL/NWRL Consortium.
1 of 2 copies available at Lake Agassiz Regional Library. (Show preferred library)
Current holds
0 current holds with 2 total copies.
Record details
ISBN:

9780525656173

ISBN:

0525656170

ISBN:

9780525566113

ISBN:

0525566112

Physical Description:

pages cm

Publisher:

New York :

Alfred A. Knopf,

[2021]
Content descriptions
| | |
| --- | --- |
| Formatted Contents Note: | You can't take it with you -- Detective work -- From Colorado to Oak Island -- In the den of Forrest Fenn -- A delightful masquerade -- Fennboree -- Death comes to the hunt -- Back on the hunt, out with the best -- The blogs, and what they say about Forrest Fenn -- A famous family, a fabulous treasure -- Sacha and the Fenntubers -- Beep's revelation -- The Candyman's conspiracy. |
| Summary, etc.: | "A full-throttle, first-person account of the treasure hunt set in motion by Forest Fenn--an eccentric art dealer and, some would say, robber baron--in 2010 that lasted a full decade and became the stuff of contemporary legend. When Forest Fenn was told he was going to die, he hid a chest full of jewels and gold in the wilderness and published a poem that contained a series of clues about the treasure's secret location. But he didn't die, and he wouldn't reveal the location. The wild hunt went on for another ten years. Daniel Barbarisi first learned of Fenn's hunt in 2017 when a friend began decoding the poem and convinced Barbarisi to catalogue his search. What began as a great story documenting the history of Fenn's treasure hunt--the rumors, characters, and pitfalls--quickly turned into a personal quest, as Barbarisi found himself on a sometimes reckless and possibly dead-end path, despite having a family at home. Over the course of the next three years, several searchers would die, endless controversies would erupt, and one anonymous unknown would find the ultimate prize. Rich with mystery, danger, and break-neck action, Barbarisi's account of the imagination and drive of desire, of obsession, and of a particularly unbridled adventure is pure gold on the page"-- Provided by publisher. |
Reviews
Booklist Reviews : Booklist Reviews 2021 May #2
Journalist Barbarisi spent several years researching and writing this mesmerizing account of a modern-day treasure hunt, which reveals a whole subculture of Indiana Jones types willing to travel across the country and invest life savings in the search for something special. In 2010, an eccentric millionaire and art dealer Forrest Fenn wrote a memoir titled The Thrill of the Chase, in which he provided a clue-filled poem to the location of a bronze chest filled with gold nuggets, rare coins, and valuable artifacts that was purportedly hidden "somewhere in the mountains north of Santa Fe." Barbarisi picked up the hunt in 2017, when he agreed to document a friend's attempt to make sense of the poem, soon becoming swept up in the chase himself. Was there actually a treasure chest, or was this a grand publicity hoax created by an octogenarian seeking a lasting legacy? Throughout the quest, conspiracy theories proliferate among the hunters, and there's plenty of controversy (blog wars, allegations of sexual misconduct, lawsuits). Barbarisi's narrative splendidly captures the timeless allure of buried treasure. Armchair adventurers will be riveted right up to the suspenseful conclusion. Copyright 2021 Booklist Reviews.
Author Notes
DANIEL BARBARISI is the author of Dueling with Kings. A former journalist at The Wall Street Journal, he lives with his wife and family in Boston.
Search for related items by subject