---
Happier hour : how to beat distraction, expand your time, and focus on what matters most / Cassie Holmes.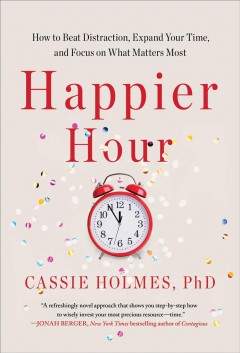 BOOK
Available copies
0 of 2 copies available at LARL/NWRL Consortium.
0 of 2 copies available at Lake Agassiz Regional Library. (Show preferred library)
Current holds
2 current holds with 2 total copies.
Record details
ISBN:

9781982148805

ISBN:

1982148802

Physical Description:

viii, 308 pages : illustrations (black and white) ; 24 cm

Publisher:

New York, NY :

Gallery books,

2022.

Copyright:

©2022
Content descriptions
| | |
| --- | --- |
| Bibliography, etc. Note: | Includes bibliographical references and index. |
| Formatted Contents Note: | Time poor and tired: why time? -- All the time in the world: the cost of being time poor, and how to get richer -- Wiser spending: how to identify worthwhile versus wasteful ways to spend time -- Waste management: how to improve the time you spend on chores, work, and commuting -- Pause and smell the roses: How to make already happy hours even happier -- Driven to distraction: how to make potentially happy hours happier -- The time jar: the importance of prioritizing your time -- Time crafting: strategies to design an ideal week -- The time of your life: letting your lifetime guide your hours. |
| Summary, etc.: | "We live in a culture where most of us suffer from feeling "time poor": the feeling of sprinting from morning to night-stressing over too much to do and not enough time to do it. Cassie Holmes has made this question her life's work: How do we optimally spend our time so that we feel satisfied in the day-to-day and with life overall? With clear, actionable advice from how to be confident in choosing how to spend your time, to how to sidestep distractions and be present, HAPPIER HOUR gives you all the tools you need to feel time rich and confidently design your schedule as a beautiful and colorful mosaic with you as the artist. We're each allotted 24 hours per day and a lifetime of years to optimally invest. How we spend our time comprises our constant stream of experiences, the lives we live, and the memories we leave behind. With this book, you'll learn how to craft the time of your life. It all starts with a happier hour"-- Provided by publisher. |
Reviews
Booklist Reviews : Booklist Reviews 2022 August #1
We all have just 24 hours each day. How we use it is up to us. Holmes, a professor at UCLA and a researcher on happiness, examines life's components and ways to make daily lives happier. Based a course she teaches to graduate students, Holmes' book is filled with personal anecdotes, research results, and exercises to help readers examine and evaluate their use of time. One assignment is tracking two weeks and listing activities and happiness levels by the half-hour. Another is gaining perspective by figuring out just how much time is left in our lives to enjoy those everyday routines and encounters. A third is writing our own eulogy, highlighting how we want to be remembered. Holmes stresses living in the moment, unplugging regularly from our devices, meditating, and taking time to enjoy ourselves. Designating time for the important people in our lives, allowing time for joy, and using a bird's-eye view are all vital. Her thoughtful exercises and commonsense advice is just what people need in a world reeling with COVID-19, wars, mass shootings, and inflation. Copyright 2022 Booklist Reviews.
Search for related items by subject