---
Before your memory fades / Toshikazu Kawaguchi ; translated from Japanese by Geoffrey Trousselot.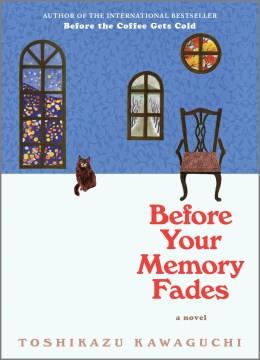 BOOK
Available copies
2 of 3 copies available at LARL/NWRL Consortium.
1 of 2 copies available at Lake Agassiz Regional Library. (Show preferred library)
Current holds
0 current holds with 3 total copies.
Record details
ISBN:

9781335429285

ISBN:

133542928X

Physical Description:

315 pages ; 19 cm.

Publisher:

New York, NY :

Hanover Square Press,

2022.
Content descriptions
General Note:

Sequel to: Kono uso ga barenai uchi ni. Published in English as: Tales from the café́.

"Originally published in Japan ... by Sunmark Publishing, Inc., Tokyo, Japan, in 2018."--Title page verso.

Summary, etc.:

"From the author of Before the Coffee Gets Cold and Tales from the Café comes another story of four new customers, each of whom is hoping to take advantage of Café Funiculi Funicula's time-traveling offer. Along with some familiar faces from Kawaguchi's previous novels, readers will also be introduced to a daughter, a comedian, a sister and a lover, each with something they wish they had said differently"-- Provided by publisher.

Language Note:

In English, translated from Japanese.
Reviews
Booklist Reviews : Booklist Reviews 2022 October #2
In the third installment of the internationally best-selling Before the Coffee Gets Cold series, some of the familiar crew from Tokyo's Café Funiculi Funicula move to Hakodate's Café Donna Donna on Hokkaido after its proprietor, Yukari Tokita, leaves indefinitely for the U.S. to help a young boy find his vanished father. In the meantime, Yukari's son, Nagare, has come up from Tokyo to fill in for "his flighty and capricious" mother, along with his cousin Kazu and her seven-year-old daughter, Sachi, the newest coffee pourer. Just like Funiculi Funicula, Café Donna Donna is a portal for time traveling. New regulars appear here: wannabe comic Reiji, who initially asked for Nagare's help to keep Donna Donna open; psychiatrist Saki; and local university student Nanako. Kawaguchi repeats his four-part format to introduce another time-defying quartet: a woman who lost her parents, half of an award-winning comedy duo mourning his late wife, an older sister missing her younger sister, and an all-too-unaware lovesick lover. Once more, translator Geoffrey Trousselot provides English readers an opportunity to bask in another of Kawaguchi's gently winsome soul-warming tales. Copyright 2022 Booklist Reviews.
Search for related items by subject
Search for related items by series